Glycine Chelated Mineral Mixture For Animals
Doodh gain is a glycine chelated mineral mixture that benefits the health of different types of animals to increase profitability.
Doodh Gain Powder Benefits
✓ Increase milk production in cattle
✓ Increase egg production in poultry
✓ Promote growth in pigs
✓ Improve fat and SNF in animal milk
✓ Improves Overall health.
Various functions of the body, including growth, muscle formation, bone health, and various other processes, are affected by the mineral composition in the body. Even though vitamins and minerals are considered micronutrients, they are crucial for the overall health and well-being of animals. Farmers need an all-in-one solution to maintain and improve the health of the farm animals. While the cattle and poultry feed are designed to provide all nutrients, supplementing the regular feed will greatly improve profitability.

The micronutrients are not absorbed properly by the body. That is why a chelated mineral mixture is more useful in cattle, poultry, and pigs. The vitamins and minerals are present together with a chelating agent. The chelating agent helps in the absorption of vitamins and minerals essential for overall growth. The immune system is strengthened with a regular supply of essential nutrition. This helps the animals to become disease resistant. This is crucial in animal husbandry, where animals are raised close together in enclosed spaces.

Increase profitability by improving overall growth and production with a chelated mineral mixture

Chelated health supplement such as Doodh Gain prevents various deficiencies in animals. The supplement guarantees improved growth in various aspects of the animals, such as bone development, skin quality, enzyme functions, and general health. The trace minerals are only required in smaller quantities, but their deficiency will directly affect the metabolic functioning of animals. Organic compounds are greatly useful in improving health and benefiting animals.

In cows, the addition of chelated mineral supplements results in increased milk production. During lactation, the increased demand for nutrition is met with the inclusion of health supplements. It also improves the health of the calves, making them more active and fertile. When the health of the calves is improved right from the early stages, they can grow into healthy adults with ample milk production. The use of chelated mineral supplements also helps to increase egg production in poultry. The chelated mineral combination increases fat in animals, making growers in poultry healthy.

The organic availability of minerals with a chelation agent makes it possible for the animals to absorb minerals much better. Metabolic function improvement is essential to maintain the health of the animals. The milk and egg quality also improves with a regular supply of chelated vitamins and minerals. The chelated supplements are easy to feed as they can be directly added to the cattle feed. These minerals also reduce the stress factor in animals which is one of the main causes for the reduction in product quality. Farmers have to use appropriate supplements to keep their animals healthy to increase profitability.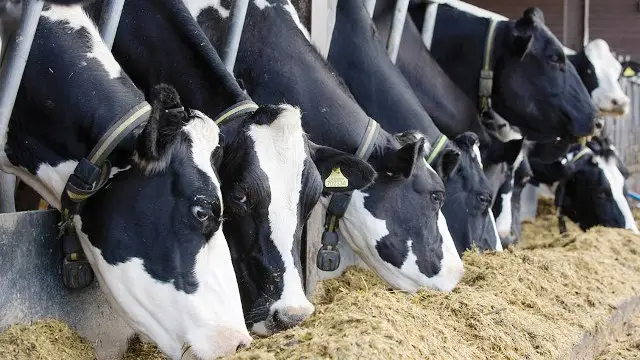 Cattle: 30 gm per day in feed
Calves: 10 to 20 gm per day in feed
Swine: 25 gm per day in feed
Poultry: 2 gm per 100 birds
The mixing ratio is 1% in cattle feed
PLACE YOUR ORDER IN BULK QUANTITY
MICRO MINERALS
 
•
Calcium 
300 gm
•
Phosphorus
1500 mg
TRACEMINERALS
 
•
Copper
3.5 gm
•
Cobalt
150 mg
•
Iron
2 gm
•
Iodine
500 mg
•
Manganese
3 gm
•
Sodium Salenite
10 mg
•
Zinc
2 gm
•
Bioactive Chromium
20 mg
AMINO ACIDS
 
•
L-Lysine
1000 mg
•
Dl Methionine
200 mg
HERBS
 
•
Asparagus Rahcemosus
50 gm
LIVE YEAST CULTURE
 
•
Live Lactobacillus Spores
200 Million
VITAMINS
 
•
Vit A.
1000000 iu
•
Vit D3
4000000 iu
•
Vit E
300 mg
•
Vit K
0.5 mg
•
Vit B12
2.5 mcg
•
Choline Chloride
1000 mg
•
Nicotinamide
1000 mg
•
ENZYME COMPLEX
1000 mg
•
Saccharomyces Cervisiae
12000 million cfu
•
Lactobacillus
6000 million cfu
Get this product
on your own brand name
PRODUCT RELATED QUESTIONS
Which types of animals should be given Doodh Gain?
Doodh Gain is suitable for Cow, Buffalo, Goat, Sheep, Cattle, Livestock, & Poultry Birds
Best way to give Doodh Gain to animals?
Cattle: 30 gm per day in feed
Calves: 10 to 20 gm per day in feed
Swine: 25 gm per day in feed
Poultry: 2 gm per 100 birds
The mixing ratio is 1% in cattle feed
Are Doodh Gain is safe for pregnant animals?
Yes, it is safe for pregnant animals.
Visit our B2B Store to buy this product. Click Here
If i need more information?
You can seek guidance from our veterinary experts. You can contact us at our helpline no. +91 72399 72499 or email at info@refitanimalcare.com
Mineral Mixture Cum Promoter​
Powder & Granules Mineral Mixture
Metho Chelated Mineral Mixture
EXPLORE MORE REFIT PRODUCTS