Best Remedy for Lameness in Poultry
A Unique Formulation of Calcium, Phosphorus & Organic Minerals which Helps in Bone Formation, Enhances Quality of Eggs & Osteomalacia. Its Best Remedy for Lameness in Poultry.
Improves bone formation
Increase egg production in layers
Prevents lameness in layer and broilers
Improves egg quality
Prevents bone deformities in chicks
Promote chick health
Poultry farming is one of the profitable businesses for farmers. However, maintaining and supporting the health of chickens in modern-day broilers is not an easy task. The poultry industry has changed in the past 80 years where the chickens reach their ideal body weight in just 4 weeks instead of the regular 16 weeks. This accelerated growth in muscle development is not supported by similar growth in bone development. As a result, mortality in broiler chickens has increased.

Lameness could also be caused by infectious diseases. These infections can be controlled by maintaining a healthy broiler that is checked frequently. As the chickens are bred closely together in broilers, the spread of infectious diseases is difficult to control. This is why more care should be taken to ensure that the broiler is free from disease-causing pathogens.

Maintaining a disease-free environment along with nutritional feed has its own challenges. Lameness and leg weakness make the birds disabled. These birds won't feed well and take water, which will ultimately result in growth problems. Lameness is caused by a wide variety of reasons. By actively combating nutritional deficits, toxins in the system are eliminated more quickly. Studies have shown that higher nutrient intake can help with decreasing the possibility of lameness.

Poultry Lameness Medicine Promotes Healthy Chicken Growth
Lamtone is the best poultry lameness medicine that contains calcium, phosphorus, and other essential organic minerals. It improves the overall health of your birds, thereby decreasing morbidities and mortality. Commercial broiler chickens reach their ideal weight quickly and they need feed supplements that support rapid growth. Without specific nutrients, it is impossible to avoid trauma to the body of the chickens that grow at an enormous rate.

The bowlegged appearance is a classic symptom of bone abnormalities. It will result in walking difficulties and the bird will be in pain. If the bird is not comfortable, it won't feed properly. Paying attention to every single bird in the broiler is not possible. That is why you need poultry lameness medicine that will help with improved bone growth.

Rickets is one of the major bone diseases experienced by farmers in poultry farming. This is caused due to problems with bone mineralization. The deficiency of calcium, phosphorus, or even an imbalance of organic minerals will result in rickets. Improper nutrition will further add to this problem. Osteomalacia affects the health of laying hens and makes them prone to cage fatigue. This skeletal disease is caused by nutritional imbalance. Lamtone will help you to overcome all these problems by simply adding the supplement to the regular feed.

Lamtone helps in preventing early chick mortality by keeping bacterial infections checked. Pullorum disease can also be prevented with the regular use of poultry lameness medicine. By encouraging weight and growth, Lamtone makes layers more healthy. Increased egg production will result in increased growth of chickens.

FEEDING SCHEDULE:-
Chicks: mix 5 ml per 100 birds
Broilers and layers: mix 10 ml per 100 birds.
or as directed by the veterinarian
PRESENTATION:-
1 Ltr.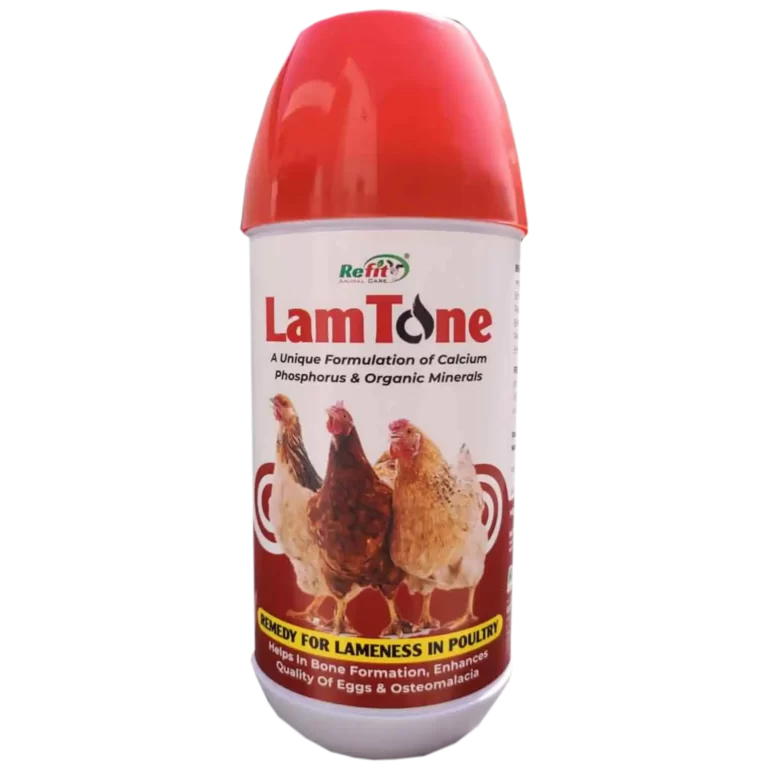 1 LTR
PLACE YOUR ORDER IN BULK QUANTITY
Get this product under your own brand name
EXPLORE MORE REFIT PRODUCTS