Nephrocare Poultry Medicine
Nephotone is a nephrocare poultry medicine that helps in improving kidney functioning, thereby promoting the health of poultry.
Nephotone Liquid Benefits
✓ Herbal remedy against Ascites, Gout, and Gumboro
✓ Improves renal system
✓ Prevents uric acid over secretion problems
✓ Removes waste products from the body effectively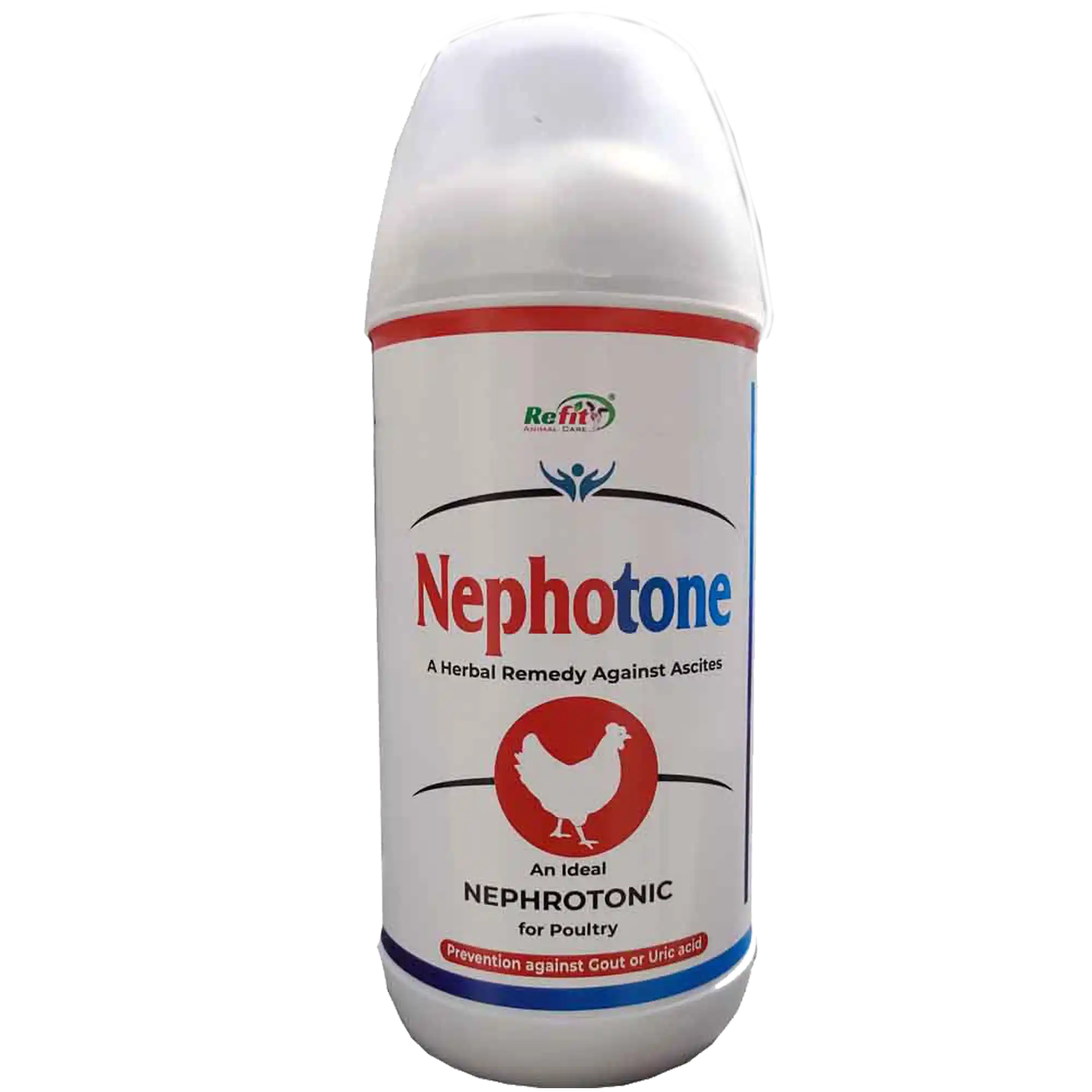 The purpose of poultry farming is to raise productive chickens for monetary benefits. Healthy environment results in productive animals that reach their full growth potential. Improper management of chickens will result in metabolic diseases that stunt their growth and even cause death. As the birds in the broiler are raised close together, managing diseases is vital for a healthy environment.

Ascites is a very common metabolic disease among poultry chickens. The reason for this problem is multifaceted, but environmental, and diet control can greatly help in preventing and managing this disease. The rapid growth rate seen in broiler chickens is responsible for various diseases. As the birds attain full maturity within a short duration, their bodies are incapable of meeting the increasing demands on their own. The increased need for regular oxygen during the rapid growth period may cause ascites in broiler chickens. Even though genetic predisposition plays a major role in ascetis cases, mixing poultry supplements with regular feed will greatly help in reducing the complications.

Gout is another problem faced by poultry farmers due to the increasing pressure on the kidneys of the birds. When the excretion of uric acid is inhibited, it results in gout. Poor water intake and rejection of feed due to gout will cause the animals to experience growth problems. By maintaining a nutritious diet and a healthy environment, gout can be controlled effectively.

The poultry feed takes care of providing essential nutrients to accelerate growth in chickens. The need for nephrocare poultry medicine is undeniable to ensure that the birds don't suffer from the poor consequences of ascites and gout.

Nephrocare Poultry Medicine Keeps Metabolic Disorders Under Control

Nephotone is a very effective nephrocare poultry medicine that controls various metabolic disorders. The first step to the prevention of grout is to regulate uric acid secretion. Nephotone helps in water retention so that excess uric acid is not secreted by your chickens. It also helps in dissolving urates crystals so that excretion doesn't create a problem. By preventing excessive fluid buildup in the body, it promotes the health of the kidneys.

Nephotone strengthens the kidneys by helping with metabolic waste excretion. It also removes the crystallization of uric acid in joints, ligaments, and tendon sheaths. It is sufficient to use Nephotone when you face problems such as urinary tract infection, ascites, and gout in the birds. As it is herbal medicine, it doesn't have any harmful side effects. The supplementary feed can be given when problematic symptoms are noted. Once the symptoms subside, the usage can be discontinued after consulting the veterinarian.

For mild cases, mix 5ml to 10 ml daily per 100 birds.
For severe cases, mix 10-20 ml daily per 100 birds.
Always follow the directions of the veterinarian.
1 LTR
PLACE YOUR ORDER IN BULK QUANTITY
composition : Each 60 gm. contains:
| | | | | | |
| --- | --- | --- | --- | --- | --- |
| • | Serratiopeptidase | 120 mg. | • | Vitami C | 750 mg. |
| • | Potassium Iodide | 7 gm. | • | Vitamin H | 25 mg. |
| • | Trisodium Citrate | 35 gm. | • | Aloevera | 100 mg. |
| • | Vitamin A | 4000 I.U. | • | Zinc Sulphate | 150 mg. |
| • | Animo Nitrogen | 100 mg. | • | Ocimum Sanctum | 1000 mg. |
| • | Vitamin E | 1500 I.U. | • | Azadiarchta Indica | 4000 mg. |
| • | Lacto Bacillus | 200 Million CFU | • | Bromelain | 320 mg. |
| • | Live Yeast Culture | 7500 million CFU | • | Sodium Selenite | 10 mg. |
| • | Vitamin K | 400 I.U. | • | Base | q.s. |
Get this product
on your own brand name
PRODUCT RELATED QUESTIONS
Which types of animals should be given Nephotone?
Nephotone is suitable for Poultry Birds
Best way to give Nephotone to animals?
For mild cases, mix 5ml to 10 ml daily per 100 birds.
For severe cases, mix 10-20 ml daily per 100 birds.
Always follow the directions of the veterinarian.
Are Nephotone is safe for pregnant animals?
Yes, it is safe for pregnant animals.
Visit our B2B Store to buy this product. Click Here
If i need more information?
You can seek guidance from our veterinary experts. You can contact us at our helpline no. +91 72399 72499 or email at info@refitanimalcare.com
EXPLORE MORE REFIT PRODUCTS