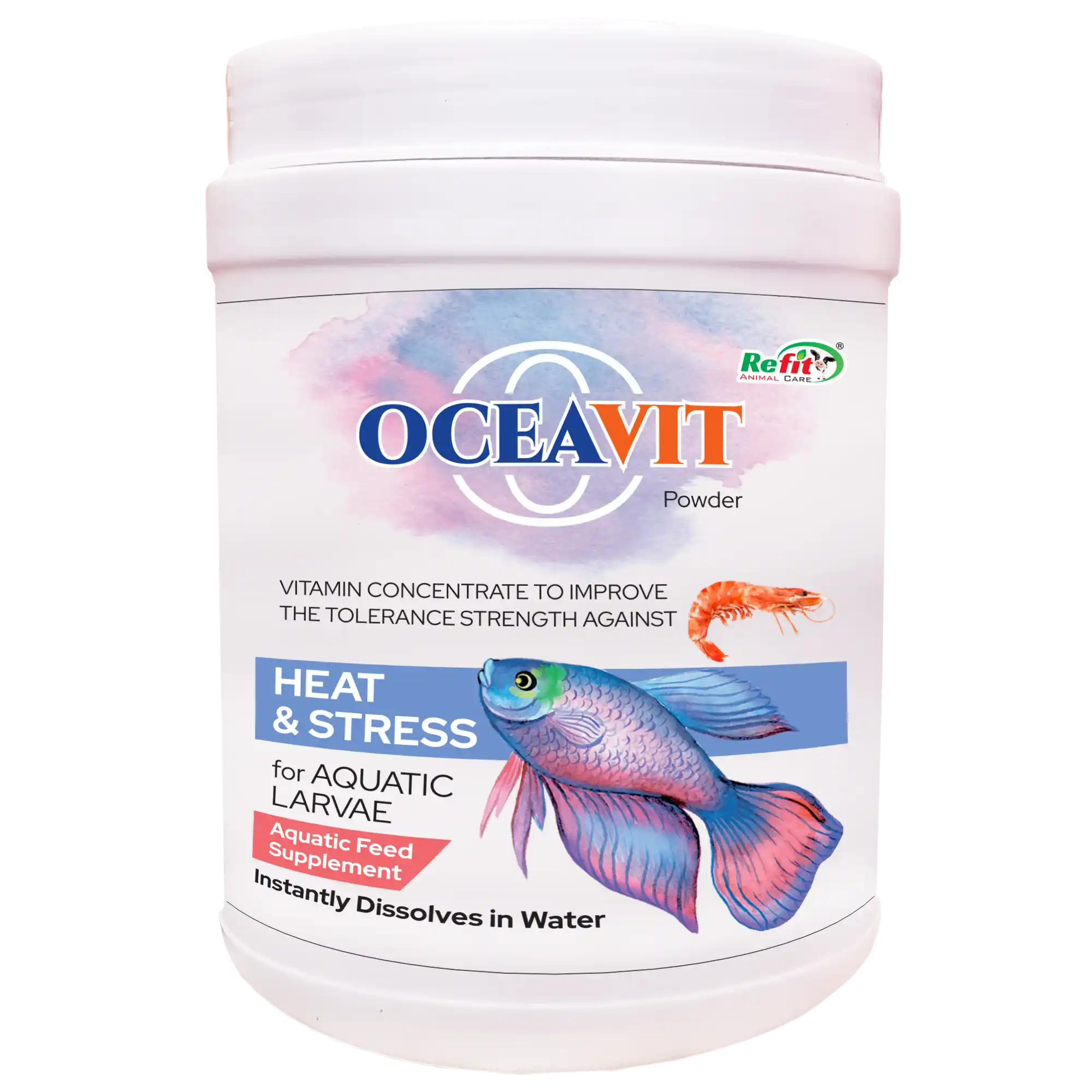 Vitamin Concentrate For Aquaculture
Vitamin Concentrate To Improve The Tolerance Strength Against Heat & Stress For Aquatic Animals
Boosts heat and stress tolerance
Increases survival rate during transportation
Suitable for all weather conditions
Convenient administration options
Provides essential nutrients for optimal growth
OCEAVIT provides a range of benefits for animal health and performance, including boosting heat and stress tolerance, increasing survival rates during transportation, and supporting optimal growth and development. Additionally, it is suitable for all weather conditions, offering convenient administration options to support animal health and productivity in any environment. With its comprehensive benefits, our product is an ideal choice for farmers and producers looking to optimize animal health and productivity in their operations.
FEEDING SCHEDULE:-
Apply 3-4 gram per metric ton volume of
water or top coat the dissolved mixture on
dry feed prior feeding. Recommend to feed once daily.
PRESENTATION:-
500 gm, 1 Kg, 5 Kg 10 Kg & 20 Kg.

500 GM
1 KG
PLACE YOUR ORDER IN BULK QUANTITY
composition : Each 1000 gm. contains:
| | |
| --- | --- |
| Vitamin A | 6,000000 IU |
| Vitamin B1 | 800000 IU |
| Vitamin B2 | 400000 IU |
| Vitamin B6 | 3800 mg |
| Vitamin B12 | 8000 mg |
| Vitamin C | 10500 mg |
| Vitamin D3 | 300000 IU |
| Vitamin E | 2000 mg |
| Vitamin K | 3000 mg |
| Methionine | 10 gm |
| Inositol | 6000 mg |
| NaH2PO4 | 300 mg |
| Choline Ch | 4000 mg |
| Folic Acid | 1500 mg |
| Ca(H2004) | 100 mg |
| Enzymes | 900 gm |
Get this product under your own brand name
EXPLORE MORE REFIT PRODUCTS