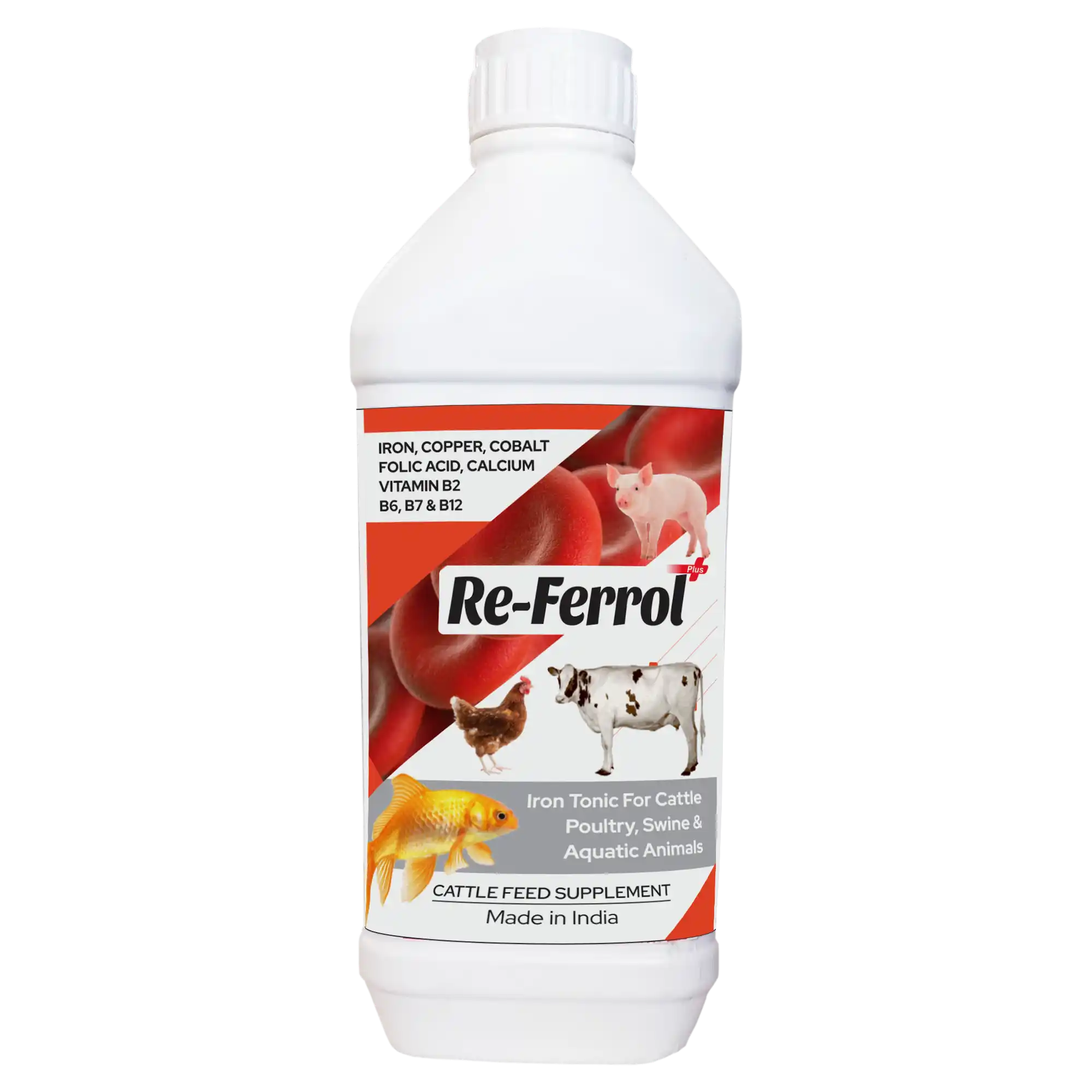 Cattle Iron Tonic Supplement
Cattle Iron Tonic Supplement For Cow, Buffalo, Sheep Goat and Livestock Animals With Copper, Cobalt, Folic Acid, Calcium & Vitamins to fulfill iron deficiency
Re-Ferrol Liquid Benefits
Cattle Iron Tonic is Made of High-Quality Vitamins and Minerals

Nutritional Supplement of Iron, Copper, Cobalt, Folic Acid, Calcium and Vitamin B2, B6, B7, B12

Treatment of Surra & Red Water Disease

Growth Promoter, Energy Booster and Immunity Booster For Animals
Iron Is an Essential Component of Ruminant Body. Young Animal on Milk Diet May Suffers from Iron Deficiency. Continuous Loss of Blood May Leads to Iron Deficiency. Sufficient Iron Is Essential for Calves as It Is Required for Various Physical Processes Especially in the production of "Hb" in Muscle where it binds to Oxygen and Transport it to Body. Iron has also the role in the production of antibiotics in the body.
So It Is Also Essential for Calf Resistance or Calf Immunity. It is Found That Calves Receiving Milk Replacers during life have more iron in the body than those fed on Mothers Milk.
Iron Deficiency in Cattle Characterised By:-
Loss of Appetite, Poor Growth, Lethargy Mainly Seen in Preserved Calves Especially on Milk. So to Overcome All There Problem. We have Launched Re-Ferrol as an Iron Tonic for Cattle, Calves, Piglets as Piglets Suffer Very Commonly from "Anemia"
So Re-Ferrol Is Generally Recommended in Anaemia, Stunned Growth, Rickets, Osteomalacia, Milk Fever Etc. However in Piglet Anaemia and in Poultry to Egg Production.
Especially Recommended in Surra and Red Water Disease in Cattle Surra is Caused by Trypanosoma, Protozoa Transferred by the "Tabanu Flies" Decreases Rbc and Hb Leading to Loss of Appetite, Weight Loss, Anaemia, Oedema, Abortion, etc. So an Iron Deficiency Seen Due to Loss of Blood in Surra and Re-Ferrol is Found to Be Highly Effective Here to Recover Hb Levels.
Another Condition Is Red Water Disease or Bovine Babesiosis is a Tick Born disease of Cattle Mainly Identified As- High Fever, Neurological Signs. Dark Colour Urine, Haemorrhagic Anemia is Common and Leads to Decreased Hb Levels in Body So Re-Ferrol Is Best Solution to Recover Hb Levels.
FEEDING SCHEDULE:-
Cattle: 30-40 ml. daily.
Sheep/Goat: 10-20 ml. daily.
Swine 15-20 ml. daily.
Poultry: Chicks: 50 ml./per 100 birds.
Grower/Layer/Broiler: 100-150 ml./per 100 birds.
PRESENTATION:-
500 ml. & 1 Ltr.
500 ML
1 LTR
PLACE YOUR ORDER IN BULK QUANTITY
composition : Each 20 ml. contains:
| | | |
| --- | --- | --- |
| • | Calcium Gluconate | 360 mg. |
| • | Ferric Ammonium Citrate | 300 mg. |
|   | (Eq. to 64.5 mg of Fe) |   |
| • | Copper Sulphate | 100 mg. |
| • | Cobalt Sulphate | 1.5 mg. |
| • | Zinc Sulphate | 50 mg. |
| • | Cholecalciferol  | 3600 I.U. |
| • | Nicotinamide | 45 mg. |
| • | Biotin | 75 mcg. |
| • | Folic Acid | 1.5 mg. |
| • | Choline Chloride  | 1500 mg. |
| • | Liver Extract | 200 mg. |
| • | Cyanocobalamin (Vit. B12) | 15 mcg. |
| • | Flavoured base | q.s. |
Get this product under your own brand name
EXPLORE MORE REFIT PRODUCTS