Herbal Liver Tonic For Cattle
Best Veterinary Herbal Liver Tonic For Cattle, Buffalo, Cows, Sheep, Goat, Poultry & Farm Animals
✓ Liver Tonic Supplement is Made of High-Quality Vitamins and Minerals
✓ Contains Silymarin to protects the liver from Effect of Toxins
✓ Helps in Liver Regeneration
✓ Veterinary and Animal Feed Supplement
✓ Improves Overall health.
RIVLIV is the Veterinary Liver Tonic for the liver functioning of large animals and is free of chemicals. As it is completely a herbal combination so giving the best result without any side effects. These are accurately formulated using quality ingredients to ensure the effectiveness and exact composition of Silymarin, Sarphuntra, and Bhumiamlika & Other herbs along with Vitamins and Minerals. It is beneficial in improving liver function and increasing the appetite, growth, production, and vitality of the animals.
As we know liver is one of the detoxification sites of the body and by this various toxins or wastes are produced in the body which are converted into safe and useful products by the liver and wastes are excreted via the kidney in the urine. The liver is a vital organ involved in metabolism, storage, secretion, detoxification, and production.
However, during its functioning liver undergoes several types of stress or damage. So to prevent these damages or for its proper functioning external source of liver-boosting supplement is required otherwise with the passage of time liver functioning got affected and with this other body functions are also affected and the negative effect is created in the body leads to conditions like anorexia, indigestion, and stress conditions. Mainly during summer conditions due to summer stress liver functioning is affected leading to impaired metabolism. So to solve this problem a Complete Liver Tonic For Animals is introduced in the market by REFIT ANIMAL CARE named RIVLIV. This animal feed supplement product solves liver-related problems in Cows, Goats, Buffalo, and other livestock animals.
It is acting as an anti-stress to counteract stress due to vaccination, deworming, disease, change in feed, weather, shifting, debeaking, and overcrowding. It helps to restore liver function following liver fluke infestation in livestock and aflatoxicosis in poultry also improves FCR in poultry as well as increased weight gain and production in poultry.
LIVER TONIC BENEFITS:-
Anti-Oxidant.

Hepatoprotective.

Reduce blood lipids.

Helps in liver regeneration.

Increases liver cell synthesis.

It also increases milk production.

Protects the liver from the effect of toxins.

Supportive treatment in deficiencies.

Enhances growth, productivity, and efficiency.

Improves livability and peak performance & develops body resistance against diseases.

Appetite improves FCR, promotes growth, increases milk yield and prevents liver disorders.

As a general tonic to use regularly to enhance liver functioning, Improves FCR and weight gain.
लाभ:-
लीवर की सुरक्षा करता है।
पशु को तनाव मुक्त करता है।
खून बढ़ाने में सहायक है।
पशु को गर्मी के तनाव से राहत दिलाता है।
पाचन क्रिया को तंदरुस्त करता है।
ਲਾਭ:-
ਲਿਵਰ ਦੀ ਸੁਰੱਖਿਆ ਕਰਦਾ ਹੈ
ਪਸ਼ੂ ਦੇ ਤਨਾਅ ਨੂੰ ਘਟਾਉਂਦਾ ਹੈ
ਖੂਨ ਬਨਾਉਣ ਵਾਲੇ ਸੈਲਾਂ ਦੀ ਗਿਣਤੀ ਵਿੱਚ ਵਾਧਾ ਕਰਦਾ ਹੈ ਅਤੇ ਖੂਨ ਵੀ
ਵਧਾਉਂਦਾ ਹੈ
ਪਸ਼ੂ ਨੂੰ ਗਰਮੀ ਤੋਂ ਰਾਹਤ ਦਿਵਾਉਂਦਾ ਹੈ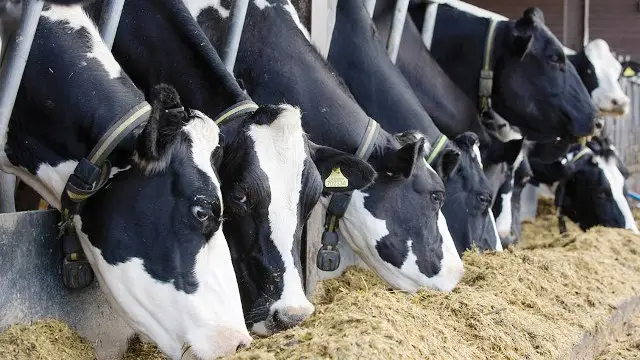 Cows, Buffaloes: 50 ml twice daily
Calves: 20- 25 ml twice daily
Sheep & Goat: 10- 15 ml twice daily
Poultry: 10ml per 100 birds
500 ML
1LTR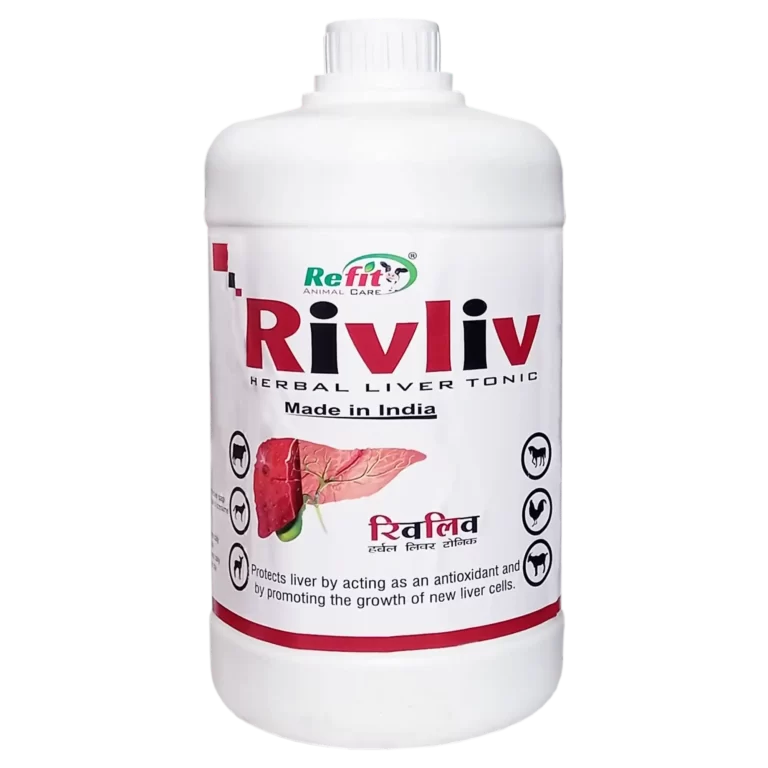 2 LTR
5 LTR
10 LTR
20 LTR
PLACE YOUR ORDER IN BULK QUANTITY
Get this product
on your own brand name
PRODUCT RELATED QUESTIONS
Which types of animals should be given Rivliv?
Rivliv is suitable for Cow, Buffalo, Goat, Sheep, Cattle, Livestock, & Poultry Birds
Best way to give Rivliv to animals?
Cows, Buffaloes: 50 ml twice daily
Calves: 20- 25 ml twice daily
Sheep & Goat: 10- 15 ml twice daily
Poultry: 10ml per 100 birds
Are Rivliv is safe for pregnant animals?
Yes, it is safe for pregnant animals.
Visit our B2B Store to buy this product. Click Here
If i need more information?
You can seek guidance from our veterinary experts. You can contact us at our helpline no. +91 72399 72499 or email at info@refitanimalcare.com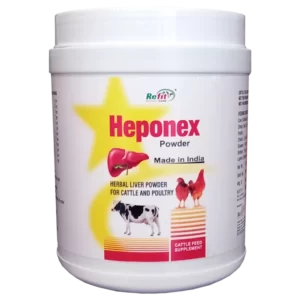 Liver Protective Care Powder
Iron Enriched Liver Tonic
EXPLORE MORE REFIT PRODUCTS