Vitamin-A Liquid For Cattle & Poultry
Vitosol A is a Vitamin A supplement for cattle that helps with complete growth of the livestock.
Vitosol-A Liquid Benefits
✓ Combats blind calving problems
✓ Improves growth, maintenance and regeneration of skin and muscle cells
✓ Improves bone formation
✓ Improves fertility
✓ Stimulates antibodies and enhances immunity
✓ Increases egg production
✓ Functions as growth promoter for poultry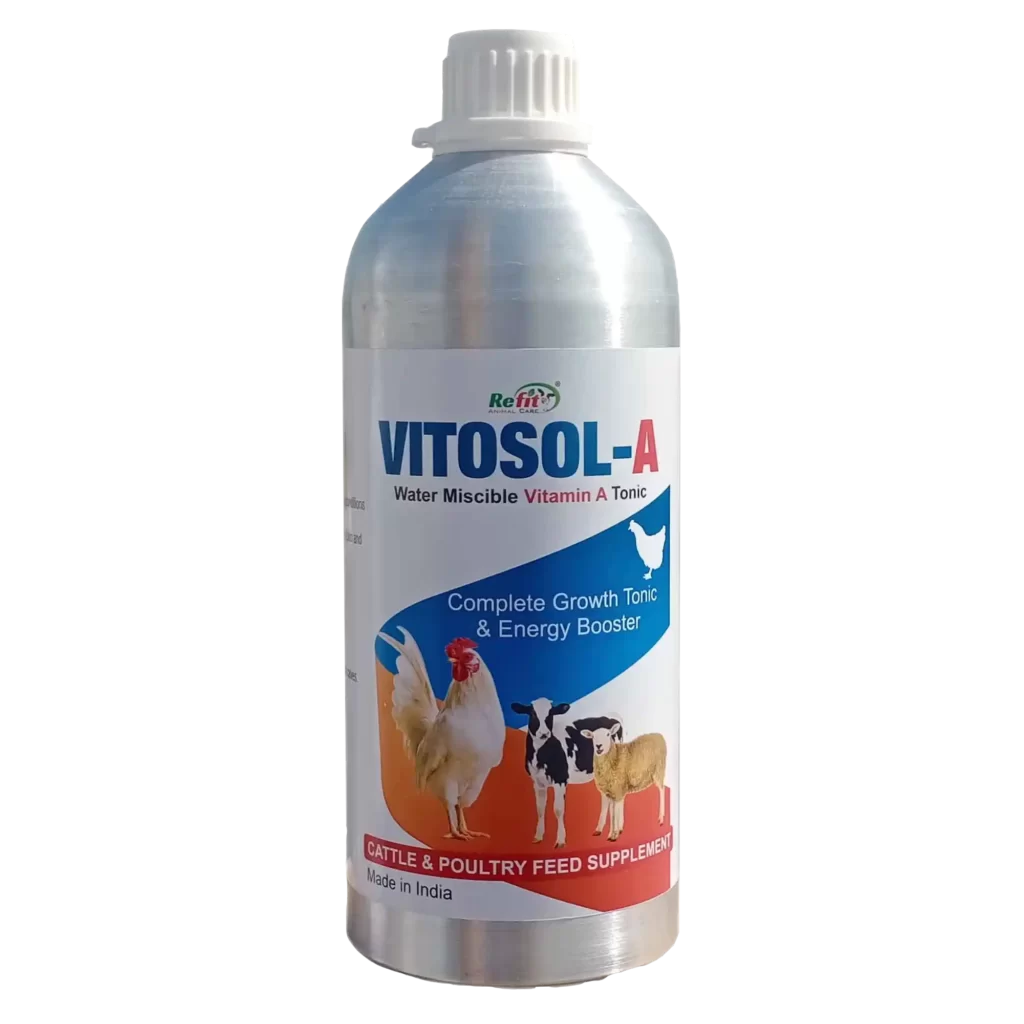 Vitamin A is one of the important growth elements necessary for growing healthy animals. Cattle are capable of producing Vitamin A from the beta carotene naturally present in green vegetation.  When cattle are fed with high quality green food, vitamin A will be abundant. However, in animal husbandry, substitute feeds and supplementary feeds are mandatory to promote accelerated growth. The beta carotene available in natural feed will decrease over time as the hay is stored.

The deficiency of Vitamin A results in numerous problems in cattle such as reduced feed intake, stunted growth, night blindness, diarrhoea, and edema. It also results in reproductive issues such as lower conception rates, abortions, still born calves and weak calves. When a cow gives birth to a calf with vitamin A deficiency, the resulting calf will have a poor immune system. The cattle feed may have increased concentrations of nitrogen, which will further decrease absorption of vitamin A.

How Vitosol A Improves Overall Health Of The Cattle And Poultry?

When the availability of green grass for grazing is less, cattle should be supplemented with an effective Vitamin A supplement such as Vitosol A. This supplement not only helps with health, but also improves reproduction. It encourages development of bones, teeth and nervous tissues. It helps in improving the lining of the digestive, respiratory and reproductive systems. When gut health is improved, it improves absorption of nutrients from cattle feed.

Major improvement in the reproductive nature of cattle can be noted after introducing Vitamin A supplement in the diet. Calves receive most of their Vitamin A by drinking colostrum from the mother cow. In adult cows, the availability of Vitamin A in the body must be evaluated before the calving stage. This will ensure that the calves don't abort and birthing of still born calves can also be avoided.

Supplementing the cattle feed with an active Vitamin A supplement for cattle such as Vitasol A is very simple. It can be mixed with mineral mixes and commercial cattle feed products. On an average, cows require 30,000 to 50,000 IU of Vitamin A/hd per day. Even though Vitamin A injections are available, they are cumbersome. It is much easier to add supplemental Vitasol A to regular feed. If cows are severely deficient in vitamin A, injections can be provided after consulting a veterinarian.

Cattle/Equine: 100ml. daily
Calves: 40ml. daily
Sheep/Goat: 20ml. daily
Chicken/Broiler: 100ml. per 100 birds
Growers: 25ml. per 100 birds
Layers: 40ml. per 100 birds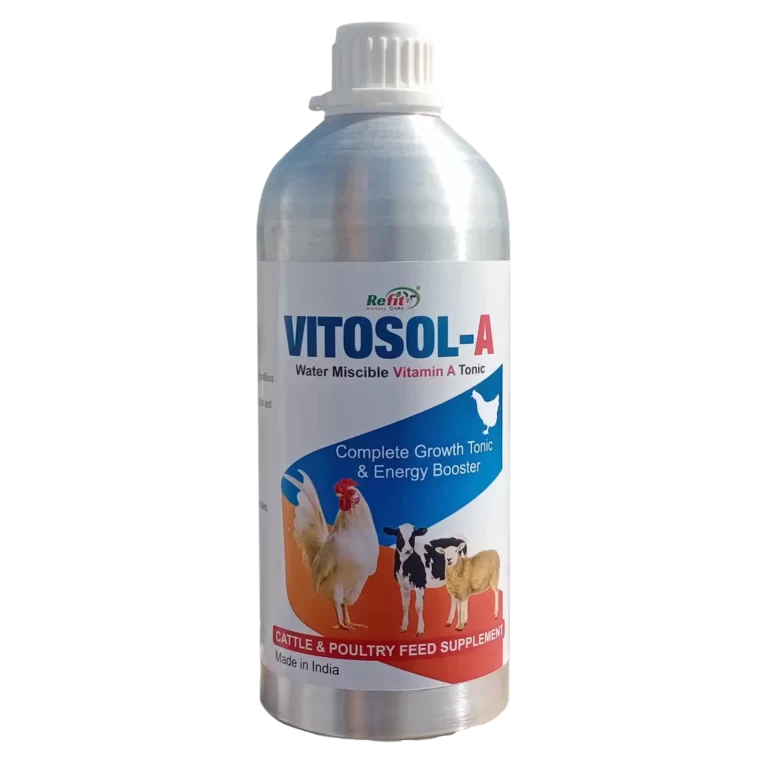 1 LTR
PLACE YOUR ORDER IN BULK QUANTITY
Get this product
on your own brand name
PRODUCT RELATED QUESTIONS
Which types of animals should be given Digoplus?
Digoplus is suitable for Cow, Buffalo, Goat, Sheep, Cattle & Livestock
Best way to give Digoplus to animals?
Large animal: 20-25 Gms. twice daily.
Small animal: 10 Gms. twice daily.
Are Digoplus is safe for prgnant animals?
Yes, it is safe for pregnant animals.
Visit our B2B Store to buy this product. Click Here
If i need more information?
You can seek guidance from our veterinary experts. You can contact us at our helpline no. +91 72399 72499 or email at info@refitanimalcare.com
EXPLORE MORE REFIT PRODUCTS