Electrolyte Powder For Cattle
Electrolyte powder for cattle prevents negative energy balance and maintains appropriate electrolyte balance in cattle.
Helps overcome stress period
Prevents dehydration stroke
Maintains adequate electrolyte balance
Regulates BMR
Combats negative energy balance
Prevents ketosis
Overcomes diarrhea and hypocalcemia
Heat stress is a common problem in cattle, especially in hot areas such as India. Cows enjoy grazing, but on hot summer days, it is wise to keep them indoors. While all animals have a natural body response to excessive heat, extremely hot weather combined with inadequate shading can cause heat stress in animals. When cows experience high heat, they group together in larger groups. When there is not enough shade for them, it will result in heat stress.
The best way to avoid heat stress is to provide sufficient water for the animals. Providing shade areas and cool places for the animals to rest is also important. When you provide shade areas for cows, they will automatically find them when the animals are experiencing heat stress. Providing oral electrolyte supplements to combat heat stress is also an intelligent approach to solving heat stress.
Heat-stressed animals will have shallow breaths and they may not be active. If the extreme internal temperature is not controlled, it can result in heatstroke which is highly dangerous. Animals that suffer from heatstroke won't stand up, eat, or drink, and may even appear comatose. Sometimes, problems such as milk fever result in increased internal temperature which will further be increased in hot weather conditions.
Electrolyte Powder For Cattle Is Great For Preventing Heat Stress
C Charge is an excellent electrolyte powder for cattle that restores negative energy balance. Caring for dairy cattle is to ensure that the animals stay comfortable on the farm. The hot and humid climate of India causes multiple problems for cows that lack the ability to control their internal temperature. This is especially true in pregnant cows that already have an overload on the system. Cows that just gave birth also have a lot of stress on their bodies and they can't deal with heat stress on their own.
In post-birth cows, heat stress can result in a severe decrease in milk production. This not only affects the health of the cows but also causes problems for calves that depend on the cows for their nutrition. Diarrhea is also a common symptom of heat stress. Oral electrolytes can't be fed directly if the animal suffers from heatstroke and goes into a comatose state. That is why regularly feeding electrolytes is a great way to prevent heat stress.
C Charge can also be used for sheep, goats, swine, and horses because all farm animals show a similar response to heat stress. On hot days, hosing down the animals for about twenty to thirty minutes will help reduce the internal heat. Providing adequate water sources to quench their thirst whenever they want is essential on hot days.
FEEDING SCHEDULE:-
Cows and buffaloes: 100gm daily
Calves: 50 gm daily
Sheep, goats: and swine, 50g daily
Horses: 100g daily
PRESENTATION:-
1 kg, 5 kg, 10 kg & 20 kg.
PRODUCT TYPE:-
Cattle Feed Supplement
Similar Liver Supplement Products or Medicine for Animals:
👉 Drizlyte(Electrolyte Liqud)
👉 Electro(Electrolyte Powder For Poultry)
👉 R-Cool Strong(Electrolyte Liquid For Cattle & Poultry)
👉 Canlyte(Electrolyte Powder For Animals)
1 KG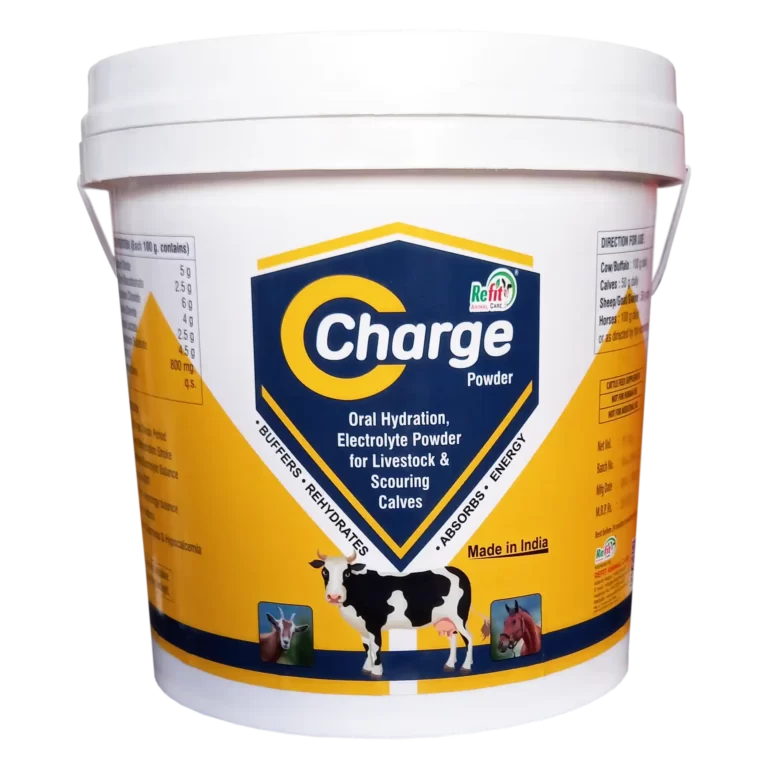 5 KG
PLACE YOUR ORDER IN BULK QUANTITY
Get this product under your own brand name
EXPLORE MORE REFIT PRODUCTS