Lumpy Skin Disease Treatment For Cow
A Unique Herbal Combination To Built Strong Immunity Against Lumpy Skin Disease (LSD Care Cow)
Lumpy-Hit Liquid Benefits:
Effective in Lumpy Skin Disorders (LSD Care)
Enhances immunity & Performance
Increases the production of platelets
Helps to rebuild damaged tissue & Heal wounds in LSD
Lumpy Skin Disease (LSD) may affect cattle, sheep, or goats' skin and connective tissues. As with smallpox, rabbit pox, and camelpox, it is a member of the pox virus family. Most cattle that contract this disease die due to its infection because there is no definitive treatment. This disease is highly transmissible (viral) and potentially infectious worldwide. Cows, goats, and buffalos, among others, suffer extensive skin damage and serious weight loss as a result.
What is Lumpy Skin Disease ( LSD)?
Lumpy skin disease (LSD) is an infectious disease in cattle caused by a virus of the family Poxviridae, also known as the Neethling virus. It is spreading rapidly in India and affecting a large number of animals.
What causes LSD?
A lumpy skin disease virus (LSDV) within the family, Poxviridae causes lumpy skin disease.
Indications of LSD
As well as a high fever and a reduction in milk production, skin nodules, loss of appetite, nasal discharge and watery eyes, excessive salivation and discharge from the nose and eyes, and nodules on the body, the symptoms include a high fever and a reduction in milk production.
What is Lumpy-Hit?
Lumpy-Hit is a Unique Herbal Combination To Built Strong Immunity Against Lumpy Skin Disease in Cows.
Lumpy Hit offers your animals the best protection against LSD

In traditional veterinary practices, turmeric is a good treatment for cattle, skin infections, worm infections, and mastitis.

There are many metabolic functions that vitamin C plays, including the growth and maintenance of tissues, the reduction of oxidative stress, and the regulation of immunity.

Tulsi helps in reducing fever, pain, cold, and many more.

This product comes with many components that have their own value, thus reducing the signs of lumpy skin diseases in animals.
OTHER BENEFITS:

Lumpy skin disorders are effectively treated with this product

Strengthens the immune system and improves performance

Increases platelet production

In LSD, it helps to rebuild damaged tissues and heal wounds.
लाभ:
ढेलेदार त्वचा विकारों में प्रभावी
प्रतिरक्षा और प्रदर्शन को बढ़ाता है
प्लेटलेट्स के उत्पादन को बढ़ाता है
क्षतिग्रस्त ऊतकों के पुनर्निर्माण में मदद करता है और एलएसडी में घावों को ठीक करता है
ਲਾਭ:
ਗੁੰਝਲਦਾਰ ਚਮੜੀ ਦੇ ਵਿਕਾਰ ਵਿੱਚ ਪ੍ਰਭਾਵਸ਼ਾਲੀ
ਇਮਿਊਨਿਟੀ ਅਤੇ ਪ੍ਰਦਰਸ਼ਨ ਨੂੰ ਵਧਾਉਂਦਾ ਹੈ
ਪਲੇਟਲੈਟਸ ਦੇ ਉਤਪਾਦਨ ਨੂੰ ਵਧਾਉਂਦਾ ਹੈ
ਖਰਾਬ ਟਿਸ਼ੂ ਨੂੰ ਦੁਬਾਰਾ ਬਣਾਉਣ ਅਤੇ ਐਲਐਸਡੀ ਵਿੱਚ ਜ਼ਖ਼ਮਾਂ ਨੂੰ ਠੀਕ ਕਰਨ ਵਿੱਚ ਮਦਦ ਕਰਦਾ ਹੈ
FEEDING SCHEDULE:
In the case of large animals, 50 ml twice a day is recommended.
The recommended dosage for small animals is 25-30 ml twice daily.
PRESENTATION:-
1 Ltr.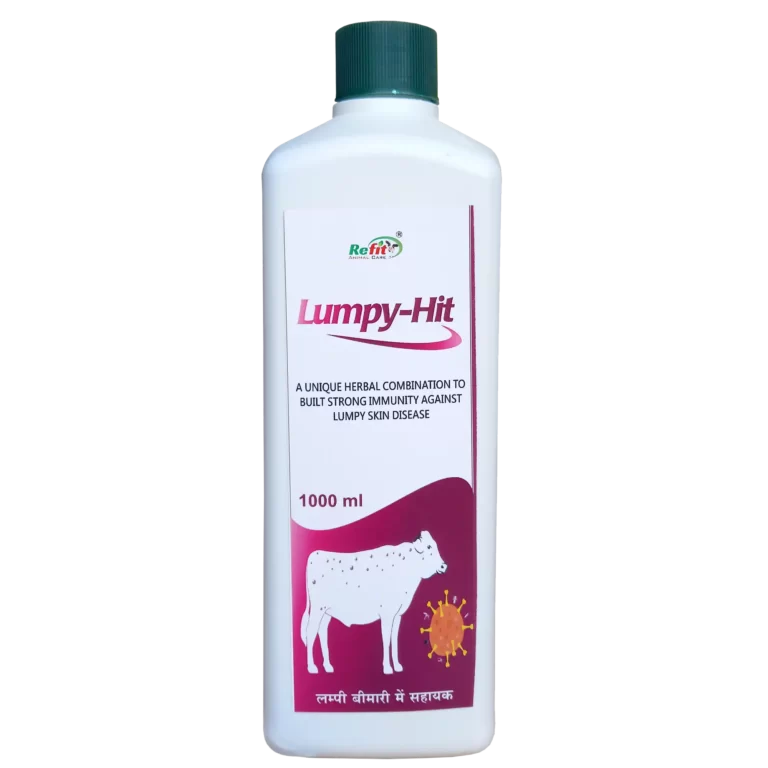 1 LTR
PLACE YOUR ORDER IN BULK QUANTITY
composition : Each 30 ml. contains:
| | |
| --- | --- |
| Turmeric | 1500 mg |
| Ashwagandha | 200 mg |
| Sahjan | 100 mg |
| Tulsi | 80 mg |
| Amla | 120 mg |
| Punarnava | 100 mg |
| Alovera | 100 mg |
| Yashit | 100 mg |
| Neem Giloy | 250 mg |
| Kali Mirch | 150 mg |
| Brahmi | 200 mg |
| Bhui Amla | 200 mg |
| Kal Megh | 230 mg |
| Spinach | 150 mg |
| Ferrous Gluconate | 45 mg |
| Vitamin C | 50 mg |
| Betain | 20 mg |
| Dextrose | 100 mg |
| Calcium Lactate | 15 mg |
| Carrot Seed | 200 mg |
| Yeast Bran | 201 mg |
| Wheat Germ | 202 mg |
| Vit E | 50 mg |
| Zinc | 80 mg |
| Tricholine Citrate | 350 mg |
| Liver Ext. | 500 mg |
| Aqua Base | q.s. |
Get this product under your own brand name
EXPLORE MORE REFIT PRODUCTS