Mineral Mixture For Cattle & Poultry
Optimize your livestock's health and productivity with Minfeed Diamond Mineral Mixture. Enhance bone development, digestion, and overall well-being.
Helps in Maximum Bio Availability
Improves Fertility
Healthy Calf
Maintains Health
Improves Milk Production
Minfeed Diamond Mineral Mixture is the secret to unlocking the full potential of your livestock. With optimal nutrient absorption, it ensures your cattle and poultry receive the essential elements they need to thrive. The blend promotes stronger bones and muscles, supporting their overall health and vitality. Improved digestion means fewer digestive issues and better nutrient utilization. As a result, you'll witness increased productivity, higher yields, and enhanced profitability. Give your livestock the care they deserve and witness the remarkable benefits of Minfeed Diamond Mineral Mixture today.

FEEDING SCHEDULE:
Cow & Buffalo: 50 gm. per day for maintenance and
better milk production
Pig/Calf/Sheep: 25-30 gm. per day for better weight
gain and health 1kg-2kg. to be mixed in 100kg. feed
Poultry: 2 kg per quintal of feed
or as directed by veterinarian

PRESENTATION:-
10 Kg.

5 KG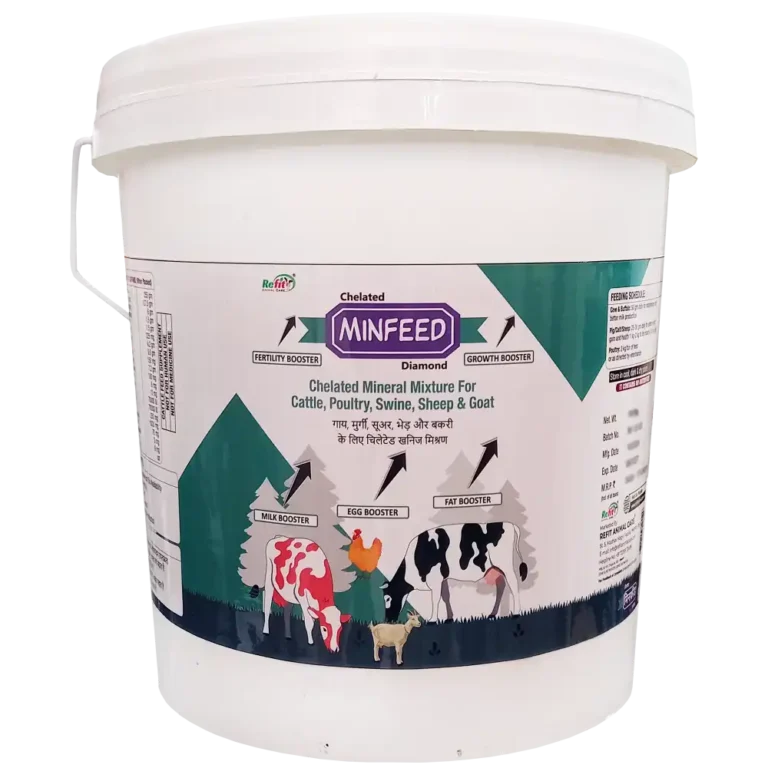 10 KG
PLACE YOUR ORDER IN BULK QUANTITY
| | |
| --- | --- |
| Calcium | 255 gm. |
| Phosphorus | 127.5 gm. |
| Magnesium | 6 gm. |
| Manganese | 1.5 gm. |
| Iron | 1.5 gm. |
| Iodine | 325 mg. |
| Copper | 4.2 gm. |
| Zinc | 9.6 gm. |
| Cobalt | 150 mg. |
| Sulphur | 7.2 gm. |
| Potassium | 100 mg. |
| Sodium | 6 mg. |
| Selenium | 10 mg. |
| Vit A | 70000 IU |
| Vit D3 | 70000 IU |
| Vit E | 250 mg. |
| Nicotinamide | 1000 mg. |
| Chromium | 78 mg. |
| DI-Methionine | 3 mg. |
| L.Lysine | 9 mg. |
| Excipients | q.s. |
Get this product under your own brand name
EXPLORE MORE REFIT PRODUCTS