Vitamin H Supplement For Cow (गाय के लिए विटामिन एच)
Reshell-H Gold is a Vitamin H for cow vitamin supplement that promotes udder growth in cows and egg production in poultry
Reshell-H Gold Liquid Benefits
Improves udder growth
Improves teats milk holding capacity
Improves growth of calves
Improves shine on skin coat in male goat (buck) and male sheep (ram)
Improves egg production in poultry
पशु चिकित्सा विटामिन H लिक्विड सप्लीमेंट मवेशीयों, गाय, बकरी, भेड़ के लिए सर्वोत्तम विटामिन
The most important profitability factor in cattle growth is the ability of the cows to produce milk. Only with proper nutrition and supplements farmers can increase milk production in cows. In broilers, egg production in layers plays a major role in determining the benefits for the farmers. Growers must reach optimal weight without any physical issues. These goals in animal husbandry are met with proper feeding. The cattle feed and poultry feed commercially available contain essential nutrients. However, the nutrient-absorbing capacity of cattle and birds raised in closed enclosures varies according to physical and psychological conditions.
The only way to ensure that the cattle and birds receive the necessary vitamins and minerals is to supplement the feed with vitamin supplements. Vitamin H for cows and poultry is important as it helps with milk production, udder growth, and overall improvement in milk quality. The vitamin H supplement boosts egg production in poultry and keeps diseases at bay.
Boost Udder Growth With Vitamin H for cow (विटामिन एच के साथ थन के विकास को बढ़ाता है)
Reshell H Gold is the best vitamin H for cow supplement that is also suitable for different types of cattle and poultry. The vitamins promote the overall well-being of the animals. They also help in improving animal performance. Studies have shown that biotin addition to lactating dairy cows resulted in a significant increase in milk production. Even a slight increase in lactation will result in greater profitability for the farmers.
The vitamin cow supplement also helps prevent mastitis, which is a common complication in lactating cows. The ability of teats to hold milk determines the occurrence of mastitis. Reshell H Gold helps in improving teats and their ability to hold milk. This reduces the possibility of mastitis. Minor cases can also be resolved easily with the regular use of the vitamin supplement. The product contains active ingredients that instantly boost animal health.
While the Reshell H Gold is primarily used in female cattle, it also helps with the appearance of male cattle. For example, the vitamin H supplement creates a shinier coat in male goats and male sheep. This is possible because vitamin supplements boost immunity in animals and increase their power.
In poultry, the use of vitamin H supplements is beneficial. The layers will improve their immunity and increase egg production. The chicks will also gain the necessary weight and fight off common diseases effectively. Animal health is of primary importance for farmers, and supplements play a major role in improving overall health. a
FEEDING SCHEDULE: (खिलाने का तरीक़ा)
Large animals:

10 ml daily on chapati

Small animals:

5 ml daily on chapati

Chicks:

5 ml per 100 birds

Layers:

10 ml per 100 birds
मवेशियों के लिए विटामिन H सप्लीमेंट के फायदे:
शारीरिक विकास के लिए मददगार।
हड्डी के स्वास्थ्य को सुधारता है।
होडी प्रबंधन में मदद करता है।
चर्म स्वास्थ्य को सुधारता है।
PRESENTATION:-
250 ml, 500 ml, 1 Ltr, 2.5 Ltr. & 5 Ltr.

Similar Liver Supplement Products or Medicine for Animals:
👉 Reshell-H (Vitamin-H For Cattle & Poultry)
👉 Spark-H(Multivitamin For Cattle & Poultry)
👉 Revita-B12(Vitamin B12 & C Liquid)

250 ML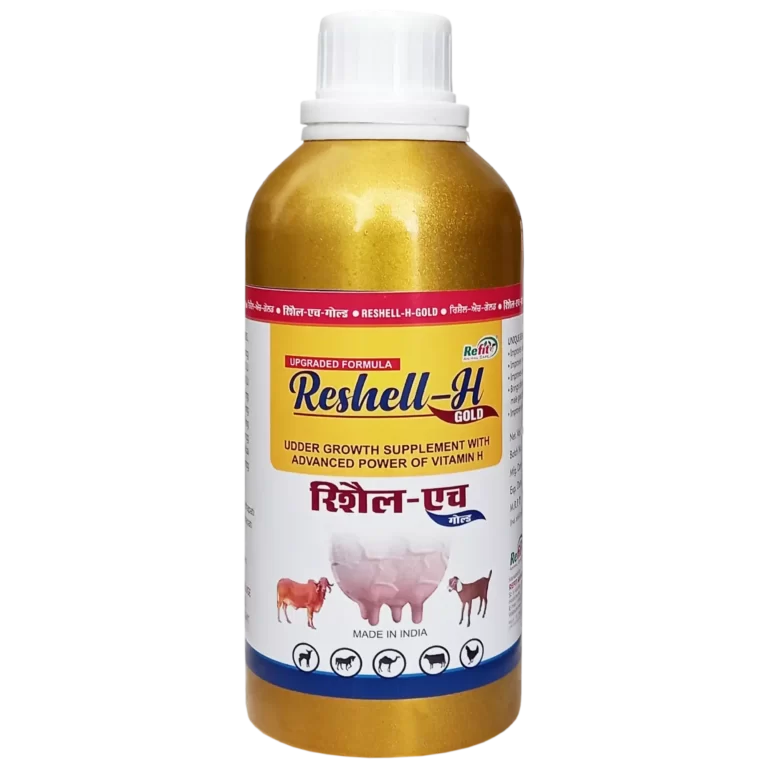 500 ML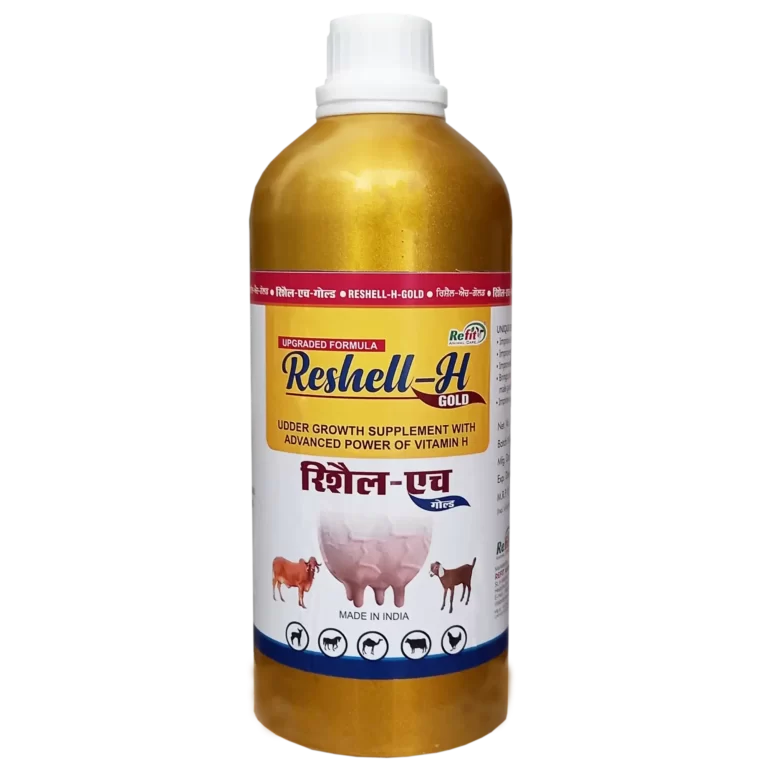 1 LTR
2.5 LTR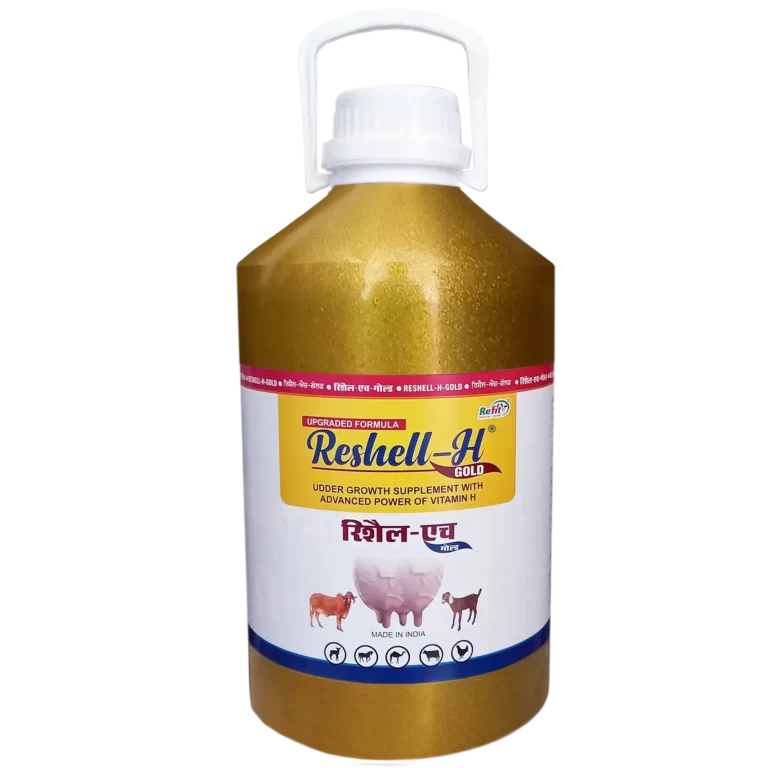 5 LTR
PLACE YOUR ORDER IN BULK QUANTITY
Get this product under your own brand name
EXPLORE MORE REFIT PRODUCTS