Chelated Liquid Calcium For Cattle
Powerful Chelated Liquid Calcium Supplement for Cattle, Cow, Sheep, Goat and Livestock Animals
Remilky-Forte Liquid Benefits
Calcium For Cattle made of High-Quality Vitamins and Minerals

Increase Milk Production, FAT and SNF

Provide Strength to Bones of Animals

Result & Quality Oriented Veterinary Calcium Supplement
Milk is one of the major factors related to a farmer's economy. The Indian farmer is living on an income coming from the sale of milk obtained from animals. As in today's animals are not getting proper nutrition from feed-giving for milk production as per the market price of milk.
So to balance milk cost and milk production animals need Veterinary Calcium Supplements which are provided along with feed and fodder. So to overcome these deficiencies and give economic benefits to the farmer and increase profits.
e have launched special chelated calcium for cattle, cow, buffalo, sheep, goat, and livestock animals named REMILKY FORTE.
In the market several types of veterinary calcium supplements are available but we guarantee the Best quality at the cheapest price. Which is mostly liked All Over India
with OUR slogan
"रीमिल्की है खास,दूध की करे बरसात"
We are providing in the market the Best calcium supplement for a cow of high bioavailable Ca, P, and vitamins required for higher milk yield in dairy animals.
BENEFITS:-
Increase milk production
Increase fat percentage
Provides strength to bones
Reduces eggshell fracture in poultry

FEEDING SCHEDULE:-
Cow, Buffalo, Horse, Camel: 100ml. Daily
Calf, Foal, Pig. Sheep & Goat: 15-30ml. Daily
Layer & Breeders: 30 ml/100 Birds
Growers/ Broilers: 20 ml./100 Birds
PRESENTATION:-
500 ml, 1 Ltr, 2 Ltr, 5 Ltr, 10 Ltr. & 20 Ltr.

लाभ:-
पशुओं में दूध उत्पादन बढ़ाता है।
पशु की हड्डियों को मजबूत करता है।
मिल्क फीवर से बचाता है।
मुर्गियों में अंडो के गुणवत्ता को बढ़ाता है।
ਲਾਭ:-
ਦੁੱਧ ਵਧਾਉਣ ਵਿੱਚ ਮਦਦ ਕਰਦਾ ਹਾਂ।
ਹੱਡੀਆਂ ਮਜ਼ਬੂਤ ਕਰਦਾ ਹਾਂ।
ਮਿਲਕ ਫੇਵਰ ਤੋਂ ਬਚਾਉਂਦਾ ਹੈ।
ਮੁਰਗੀਆਂ ਵਿਚ ਅੰਦੇ ਦੇਣ ਦੀ ਤਾਕਤ ਵਧਾਉਂਦਾ ਹੈ।
Similar Liver Supplement Products or Medicine for Animals:
👉 R-Grow(Calcium For Poultry)
👉 Recal-AD3(Calcium Powder For Cattle)
👉 Doodh Flow(Triple Strength Calcium For Cattle)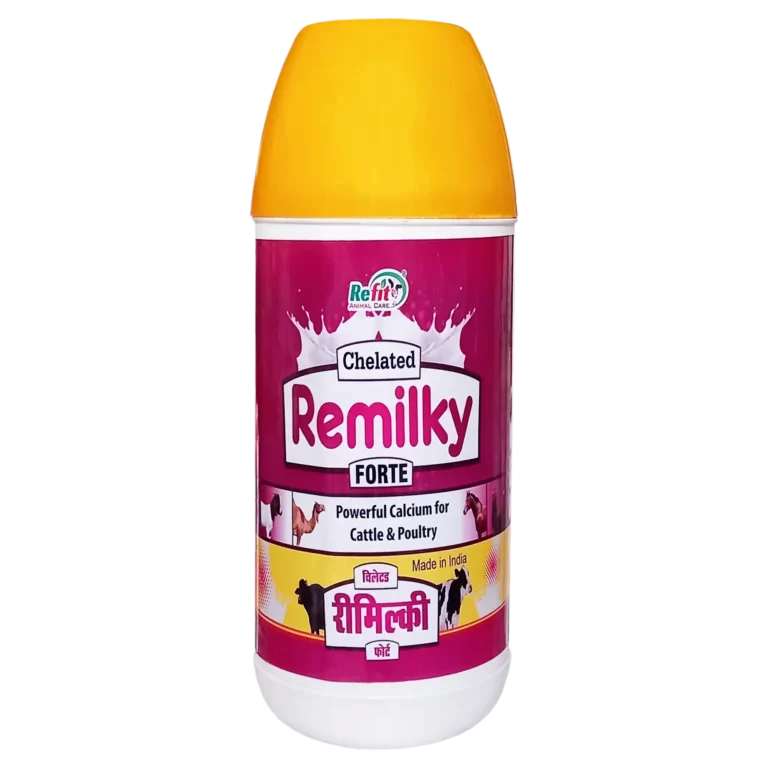 1 LTR
2 LTR
5 LTR
10 LTR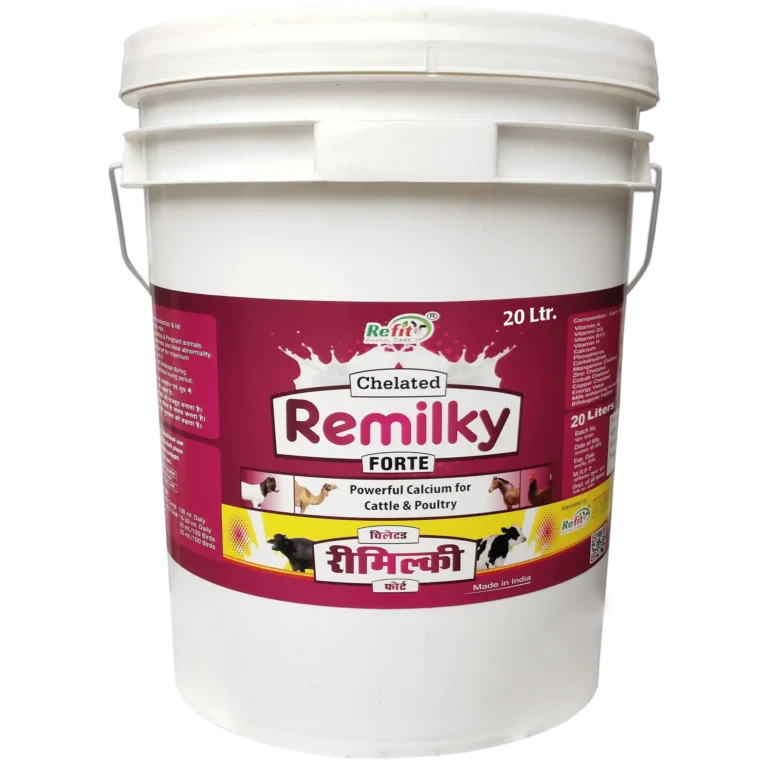 20 LTR
20 LTR
PLACE YOUR ORDER IN BULK QUANTITY
composition : Each 100 ml. contains:
| | | |
| --- | --- | --- |
| • | Vitamin A | 45000 I.U |
| • | Vitamin D3 | 8000 I.U. |
| • | Vitamin B12 | 100 mcg. |
| • | Vitamin H | 20 mg, |
| • | Calcium | 1628 mg. |
| • | Phosphorus | 838.5 mg. |
| • | Carbohydrate | 30000 mg. |
| • | Manganese Chelated | 60 mg. |
| • | Zinc Chelated | 10 mg. |
| • | Cobalt Chelated | 50 mg. |
| • | Copper Chelated | 50 mg. |
| • | Energy Value | 111.5 K.cal. |
| • | Milk Enhancing Herbal Extract | q.s. |
| • | Bifidogenic Factor | q.s. |
Get this product under your own brand name
EXPLORE MORE REFIT PRODUCTS