Mycotoxin and Toxin Binder Powder For Poultry, Chicken, Broilers & Birds in India
Tie-Tox-P Powder Benefits
It has to be added in Poultry Feed to Neutralize the harmful effects of chemicals, Endotoxins and Mycotoxins in Poultry GIT

Improves the Health and Egg Production in Poultry Birds

Acts as Gut pH Regulator in Poultry

Improves FCR and Prevents Fungal Infection
TieTox-P is A Toxin Binder Powder For Poultry. It helps in Binding the Toxin present in the Field. It contains MOS, Live Yeast Culture, HSCAS, Citric Acid, Activated Charcoal, and Other Ingredients. It Improves the Poultry Feed Quality and Maintains Poultry Digestive System.
Improves FCR, Immunity, Egg Production, and Growth Rate in Broiler Birds. "MAKE YOU ANIMALS DISEASE RESIST, SHAKE HAND WITH REFIT"
There is no doubt that eggs are a perfect food. They are loaded with protein and nutrients, can be prepared in various ways, and are affordable for even the most budget-conscious food shoppers. To keep up with demand, egg production is estimated to increase by 50% by 2030.
Due to the growing demand for healthy and nutritious food sources, producers are constantly working to find ways to alleviate egg quality issues. Producing high-quality eggs and providing visually appealing and nutritious egg products is paramount to satisfying consumers. But the question arises of how to boost egg production and raise its quality. Do not fear. Refit is here for you.
Get TIETOX-P POWDER and get rid of any worries about broilers.
The TieTox-P powder is a binder for toxins in poultry and offers amazing benefits to birds.
The Tietox-P Powder is made up of Bentonite, the mineral used in animal nutrition to absorb mycotoxins and reduce mycotoxin bioavailability from contaminated feeds in the gut of animals.
Live Yeast Culture helps improve growth performance by reducing any growth-related issues.
In poultry diets, citric acid is commonly used to improve nutrient digestibility, reduce pathogen load, and acidify gastrointestinal contents.
FEEDING SCHEDULE:-
Use 1 Kg. per ton of feed up to
13% of Moisture in feed.
Use 2 Kg. per ton of feed above
13% of Moisture in feed.
or as directed by the nutritionist.
PRESENTATION:-
1 Kg, 5 Kg, 10 Kg. & 20 Kg.
Similar Liver Supplement Products or Medicine for Animals:
👉 Tox Off(Toxin Binder Liquid)
👉 Tie Tox(Toxin Binder Powder For Cattle)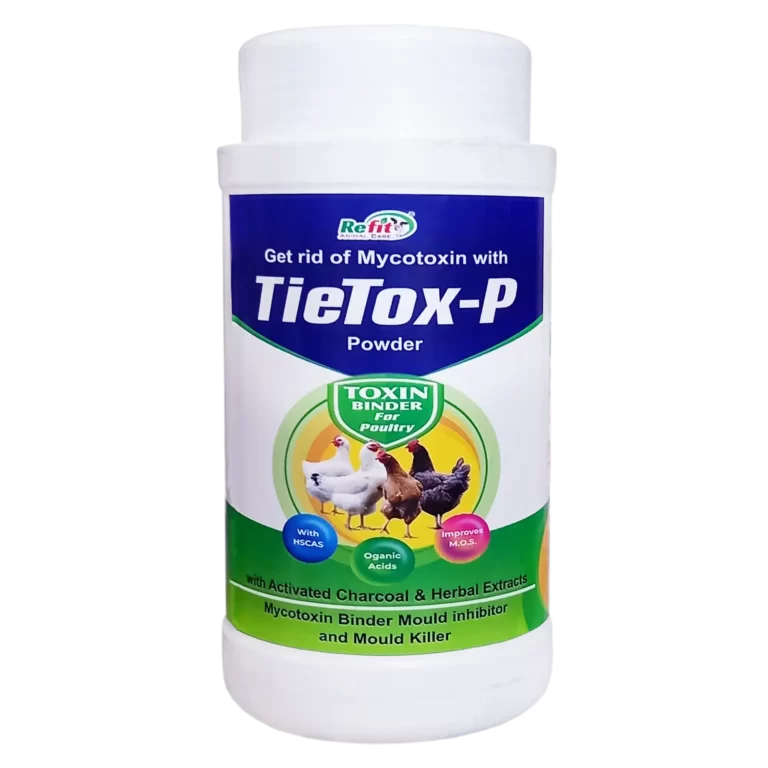 1 KG
10 KG
PLACE YOUR ORDER IN BULK QUANTITY
Get this product under your own brand name
EXPLORE MORE REFIT PRODUCTS