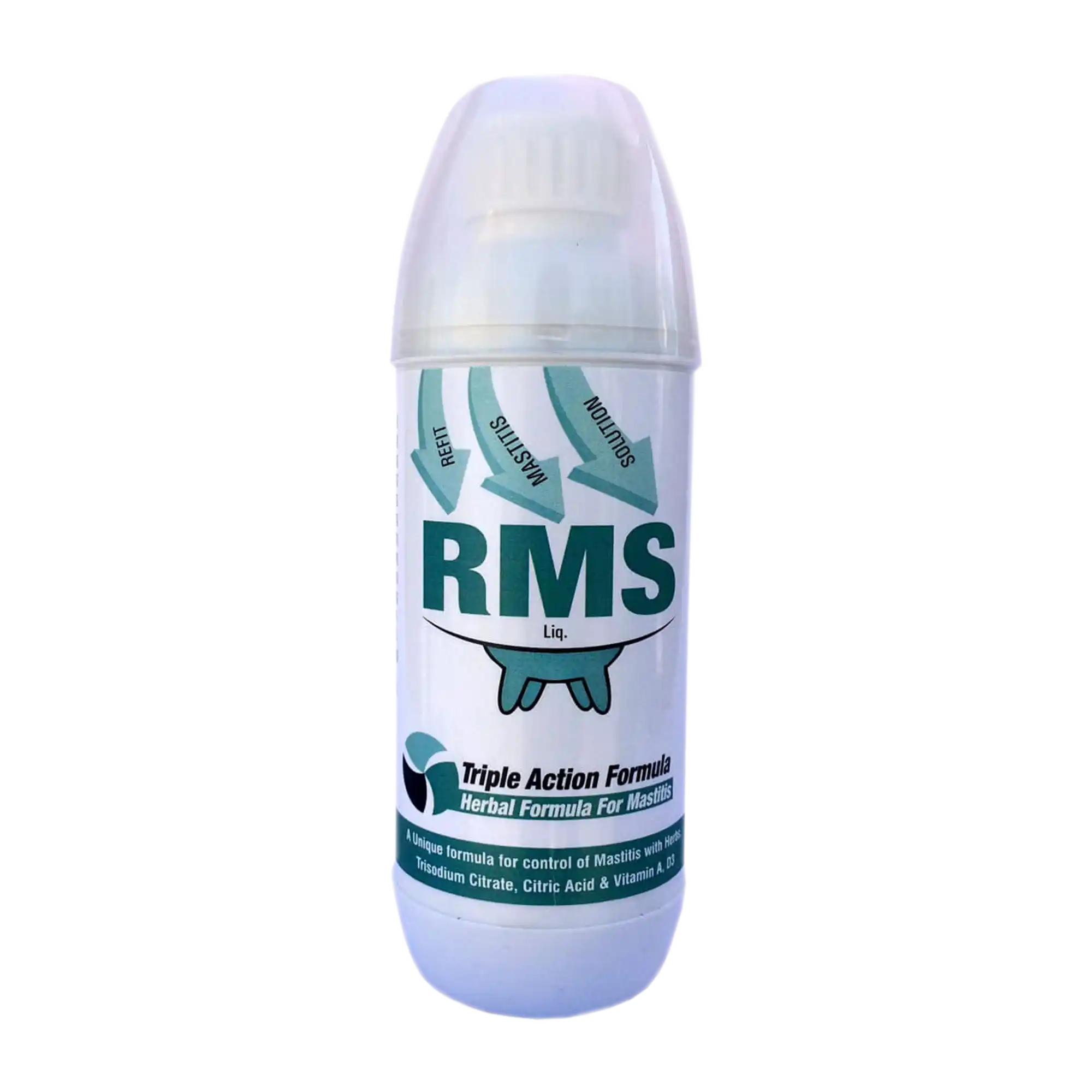 Liquid Mestitis Supplement For Cattle
Herbal Formula For Treatment Of Mastitis In Cows, Cattle And Buffalo
Anti-Mastitis Supplement is Made of High-Quality Vitamins and Minerals

Triple Action Herbal Formula For Mastitis

A Unique Supplement For Control of Mastitis With Herbs

Result and Quality Oriented Animal Food Supplement
Mastitis is the major problem faced by dairy farmers in their animals. which occurs because of varies reasons like the presence of bacteria in udder tissue. Mastitis is of two types clinical and subclinical mastitis.
In subclinical mastitis, cow looks healthy and the milk also looks alike good but its nutritional value and health of the animal go down. In clinical the animal shows symptoms of mastitis. Which can loss the farmer a lot?
To overcome mastitis REFIT ANIMAL CARE has launched RMS liquid which has anti mastitis property. It comes with the goodness of natural vitamin A and Vitamin D3 and other essential minerals in liquid form. It does not have any side effects because it is a purely herbal product and gives good results. It has shown a very good result and it stands in the market on the basis of the results.
Why RMS:-
It contains natural vitamin A and vitamin D3 with a good composition of Curcuma longa, Tinospora cordifolia, neem ext., citric acid, sod. Citrate, Emblica Officinali (which is a natural form of vitamin c), vermonia anthelmintica and other helpful vitamins in mastitis treatment.
INDICATION:-
Maintain normal pH of the milk.
Prevents the re-occurrence of mastitis.
Repairs damaged tissue of udder.
Improves milk production.
Improves milk quality.

FEEDING SCHEDULE:-
50 ml. twice a day for 5 days or
As directed by the veterinarian
PRESENTATION:-
500 ml.

Similar Liver Supplement Products or Medicine for Animals:-
👉 Mastioff(Trisodium Citerate For Mastitis)
👉 R-Kit(Anti-Mastitis Kit)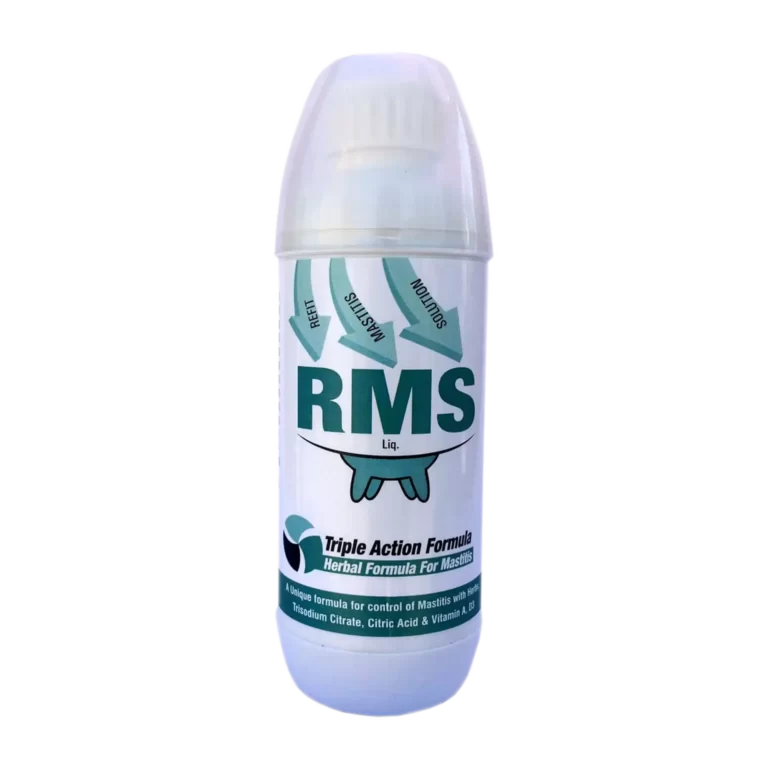 500 ML
PLACE YOUR ORDER IN BULK QUANTITY
composition : Each 50 ml. contains:
| | | |
| --- | --- | --- |
| • | Glycyrrhiza Globra | 200 mg. |
| • | Curcuma Longa | 410 mg. |
| • | Tinospora Cordifolia | 400 mg. |
| • | Tuvani Bhasam | 220 mg. |
| • | Psorelea Corylifolia | 200 mg. |
| • | Argemone Mexicana | 425 mg. |
| • | Asperagus Resemosus | 400 mg. |
| • | Vermonia Anthelmintica | 400 mg. |
| • | Neem Ext. | 2000 mg. |
| • | Citric Acid | 210 mg. |
| • | Sod. Citrate | 12 gm. |
|   | Vitamin A (Natural) | 200000 I.U. |
| • | Emblica Offcinallis(Natural Vitamin C) | 425 mg. |
| • | Vitamin D3 (Natural) | 42000 I.U. |
Get this product under your own brand name
EXPLORE MORE REFIT PRODUCTS