Growth Promoter For Poultry
Growth Promoter Medicine Powder For Poultry, Chicks, Birds, and Chicken
Poultry Growth Promoter is Made of High-Quality Vitamins and Supplements

Poultry Growth Medicine Effective in Vitamin Deficiency and Malnutrition

Poultry Medicines For Growth to Reduce Moralities in Birds

Poultry Medicine Growth Promoter act as Supportive therapy in Molting, Anorexia, Fattly Liver and Early Chick Mortality Condition
AVEGROW is a Growth Promoter Medicine Supplement Powder For Poultry, Cow, Goat, Chicken, Buffalo, Pig, Sheep, Dairy Cattle, Birds and Livestock Animals. Its Perfect Mixture of Minerals & Vitamins for Cattle Feed. KEEP YOUR ANIMALS HEALTHY.
Moralities in poultry can be defined as there is something wrong with flocks, which should be treated as early as possible by their owners. There are 4 types, mainly genetic causes, management causes, nutritional causes, and diseases. All four are harmful to your flocks and may result in severe issues.
The common sign of nutritional deficiency is decreased or lack of energy, feather abnormalities, muscle degeneration and weakness, reduced egg production, thin egg shells, decreased hatchability, etc.
Common Infections in flocks
Metabolic/Nutritional Diseases

Infectious Diseases

Parasitic Diseases

Behavioral Diseases
Avegrow is the best growth promoter that helps poultry owners in many ways. It helps in boosting chickens' life of and having more revenue as a result.
Ave grow consists of the Sindva salt, beedlaven, and Eclipta alba, which are very helpful in poultry and acts as growth promoter. Additionally, they offer power to flocks to fight serious diseases.

Analgesic, anti-inflammatory, antiviral, and antibacterial properties of Pueraria tuberosa help manage gastrointestinal impactions. As a result, it reduces the production of certain inflammation-causing chemicals in the stomach, which helps reduce stomach pain and inflammation.

Nutrients are most important for flocks as they help get more power to the body, reduce serious diseases, and increase the production of eggs and the life of flocks.
FEEDING SCHEDULE:-
500 gm./Ton of Feed
1 Kg./Ton of Feed (In summers)

PRESENTATION:-
800 gm, 3 kg, 6 kg & 20 kg
Similar Liver Supplement Products or Medicine for Animals:
👉 Aqua Gro(Growth Promoter For Fishes)
👉 Growix Forte(Growth Promoter Liquid For Animals)
👉 Heif-Grow(Calf & Heifer Growth Promoter Powder)
👉 Chick Up(Chick Growth Promoter)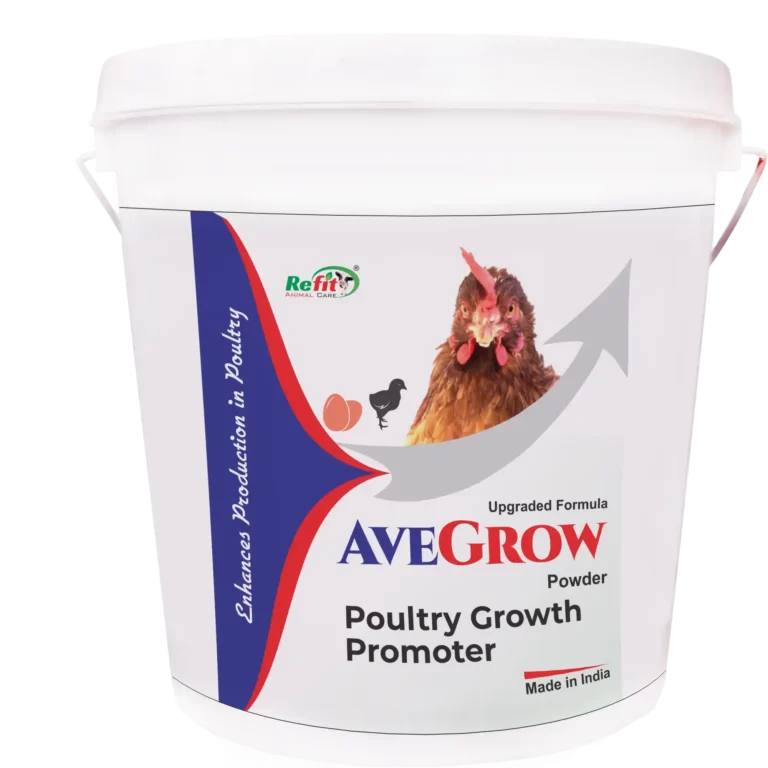 3 KG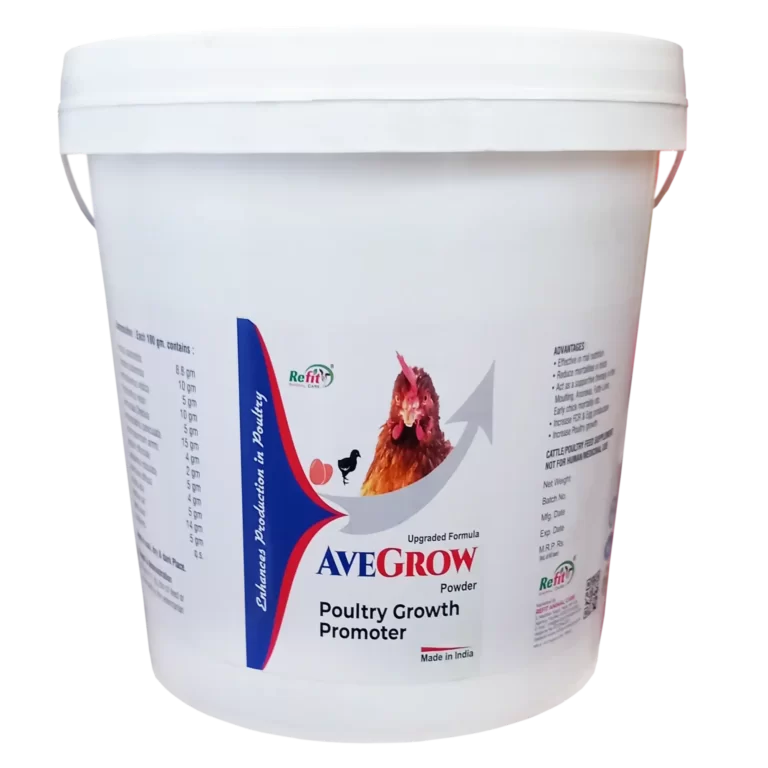 6 KG
PLACE YOUR ORDER IN BULK QUANTITY
composition : Each 100 gm. contains:
| | | |
| --- | --- | --- |
| • | Pueraria tuberosa | 10 gm. |
| • | Hemidesmus indica | 5 gm. |
| • | Phyllanthys niruri | 10 gm. |
| • | Terminalia chebula | 5 gm. |
| • | Andrographis paniculata | 15 gm. |
| • | Trachyspermum ammi | 4 gm. |
| • | Zingiber officinale | 2 gm. |
| • | Leptadenia reticulate | 5 gm. |
| • | Boerhavia diffusa | 4 gm. |
| • | Eclipta alba | 5 gm. |
| • | Sindva salt | 14 gm. |
| • | Beed lavan | 5 gm. |
| • | Excipients | q.s. |
Get this product under your own brand name
EXPLORE MORE REFIT PRODUCTS