Heif Grow is a Calf Growth Powder that boosts the weight gain and reproductive power of the heifer
Heif-Grow Powder Benefits
✓ Improve maturity and puberty age
✓ Increase reproductive performance
✓ Improve sperm quality and quantity
✓ Boost body growth
✓ Aid in reaching higher body weight in Dam and Sire
✓ Increase calf growth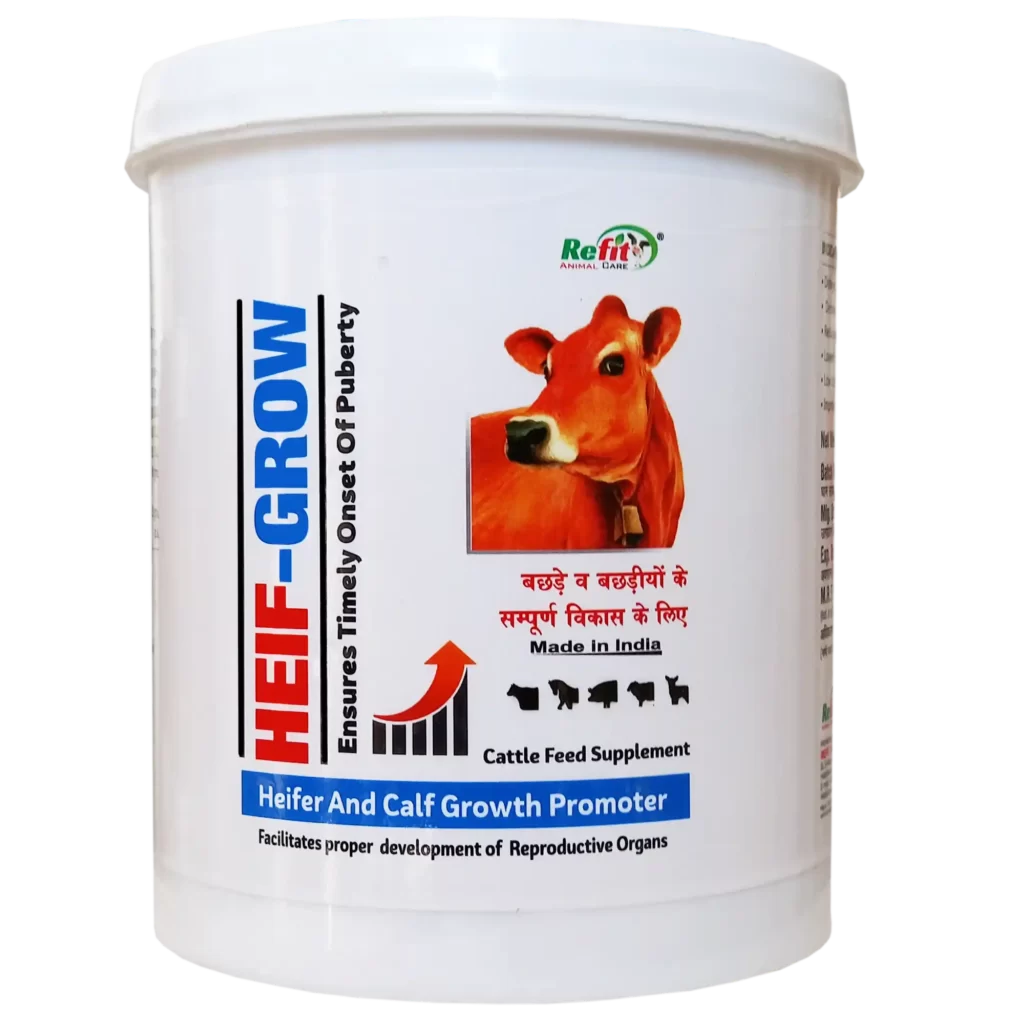 Raising younger cows is challenging for farmers who are always on the lookout for replacement cows. To quickly increase the number of dairy cows, farmers have to spend a lot of money. If they can aid the heifers to reach the calving stage quickly, it will greatly improve profitability. The first few weeks of young cows are crucial to set the path for their overall development. If adequate nutrition is provided to calves, they can mature faster and reach the calving stage much earlier.

To ensure proper growth in calves, various factors have to be monitored. The calves should be maintained in a stress-free environment, and they must be in close proximity to the dam. Feeding colostrum is crucial for the successful growth of the calves. During the early stages of heifer development, proper nutrition is required to ensure that the heifer reaches puberty earlier. This greatly improves the reproductive capability of the heifer. When the young cow has a better reproductive system, farmers don't have to waste their resources looking for replacement heifers. They can easily make their young cows bear calves sooner rather than later.

Increase Heifer Profitability With Calf growth powder

The Heif Grow is one of the best supplements for young calves as it helps in improving the reproductive ability of the heifer. It is useful for both male and female cattle. In cows, it helps the heifer reach puberty early and improves maturity. In bulls, it helps in increasing sperm quality and quantity. Thus, Heif Grow can be mixed with cattle feed and fed to young cattle without worrying about which animal consumes the feed.

Heif Grow needs to be given as a supplement only once during the day. Low body weight issues in dam and sire can greatly affect the health of the just-born calf. The nutritional requirements of the calf take over the nutritional requirements of the mother cow. As a result, this can result in calves with poor health. Immediately supplementing the heifer's diet with Heif Grow will ensure that the young cow gains optimal weight and get ready for giving birth to more calves.

Continuous feeding of Heif Grow supplement to heifers also reduces the time between calving. It helps boost the immunity and strength of the cow to make it more resilient. As a result, farmers can enjoy increased productivity. While trying to improve different aspects of the animals, farmers should never underestimate the toll it takes on the animals to develop rapidly. Accelerated growth requires high-quality nutrition in the form of feed and supplements.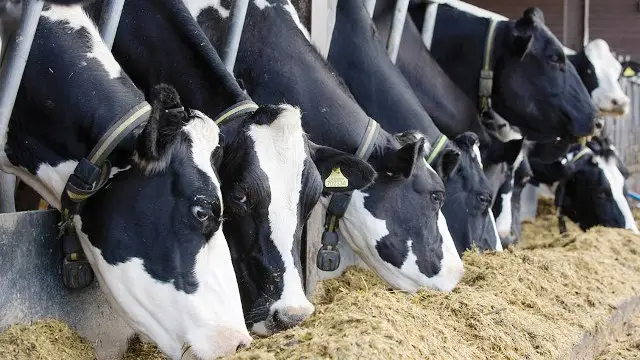 Cattle and buffaloes: 40 gm per day in daily feed.
PLACE YOUR ORDER IN BULK QUANTITY
composition : Each 1000 gm. contains:
| | | |
| --- | --- | --- |
| • | Di- Calcium Phosphate | 300 gm. |
| • | Zinc Amino Acid Chelate | 8 gm. |
| • | Manganese Amino Acid Chelate | 3.5 gm. |
| • | Copper Amino Acid Chelate | 0.5 gm. |
| • | Vitamin A | 1000000 I.U. |
| • | Vitamin D3 | 200000 I.U. |
| • | Vitamin E | 800 I.U. |
| • | Fermented Yeast Culture | 60 gm. |
|   | Fortified with (Omega 3 & 6 Fatty Acid) |   |
| • | Curcuma Longa | 25 gm. |
| • | Base | q.s. |
Get this product
on your own brand name
PRODUCT RELATED QUESTIONS
Which types of animals should be given Heif Grow?
Heif Grow is suitable for Cow, Buffalo & Cattle
Best way to give Heif Grow to animals?
Cattle and buffaloes: 40 gm per day in daily feed.
Are Heif Grow is safe for pregnant animals?
Yes, it is safe for pregnant animals.
Visit our B2B Store to buy this product. Click Here
If i need more information?
You can seek guidance from our veterinary experts. You can contact us at our helpline no. +91 72399 72499 or email at info@refitanimalcare.com
Growth Promoter For Fishes
Growth Promoter Liquid For Animals
EXPLORE MORE REFIT PRODUCTS